Your kitchen may be the heart and soul of your home, but you want to enjoy the good things of life elsewhere too – wine in the study, chilled drinks in the media or exercise room, fresh fruit and produce on the patio. These conveniently slim appliances fit in anywhere in your home, and perfectly suit the way you live today.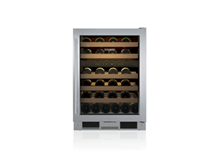 Anywhere wine storage
Sub-Zero 24" freestanding wine storage fits in anywhere, holds up to 46 bottles, and has two individually controlled storage zones so you can store both whites and reds at the perfect, ready-to-serve temperature.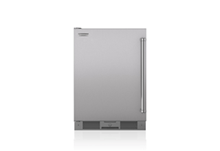 Patio or poolside refrigeration
How nice to have the fresh foods and cold drinks you like right at your fingertips. The Sub-Zero 24" undercounter refrigerator has almost 6 cu. ft. of storage, and is approved for outdoor use from 50⁰ to 110⁰.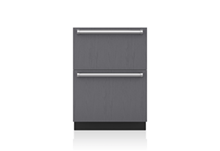 Frozen treats wherever you want them
Media room, fitness center – plenty of places where you might enjoy frozen treats from a Sub-Zero 24" freezer drawer. Makes a great snack center for the kids' playroom too.
Max ice!
No need to run to the gas station mid-party – the Sub-Zero 15" ice maker has a "max ice" function that can produce up to 50 pounds of ice per day. Indoor and outdoor models available, perfect for patio or poolside, or even your basement bar.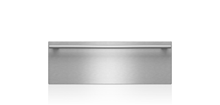 A warming drawer isn't just for food
It adds a luxurious touch in the bathroom, keeping towels toasty warm. Handy for football Saturdays too, keeping pizza and appetizers warm in the media room all game long.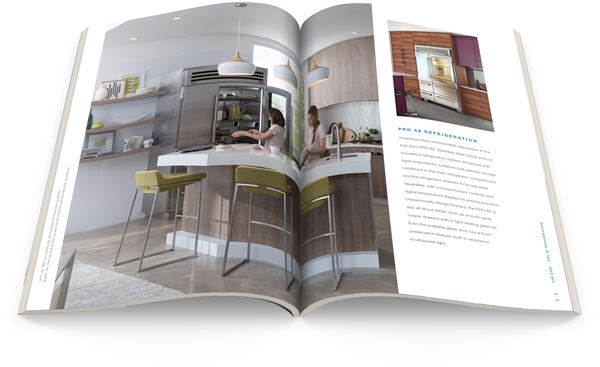 Request a brochure
Dozens of pages of inspiring photos, product features and more in print and online. Discover a world of beautiful, high-performance and top-quality products for your dream kitchen with this free guide from Sub-Zero, Wolf, and Cove.
Receive a printed brochure