Warehouses. Factories. Train stations. All across the country, urban pioneers continue to reclaim industrial buildings and turn them into stunning living spaces. If you're one of them, you'll choose Sub-Zero, Wolf, and Cove as the timelessly designed appliances that work best with high ceilings, exposed brick and vintage wood floors – and deliver that same kind of longevity.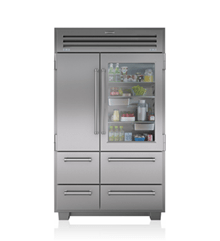 A SCULPTED METAL DESIGN STATEMENT
Your industrial space is imposing, and it requires a refrigerator that can hold its own. Our PRO 48 is an 800-pound monument to food preservation, commanding attention in even the most spacious, high-ceilinged kitchens. Contained in this iconic stainless steel package is over 30 cu. ft. of storage, with Dual refrigeration ® providing the ideal environment for both fresh and frozen foods.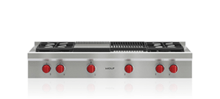 THE ADVENTUROUS RANGETOP
Whether you're searing a special cut of beef or simmering your special sauce veloute, the Wolf 48" gas rangetop provides the precise control you need, with highs to 20,000 Btu and lows down to just a gentle breath of continuous flame. With a charbroiler and griddle, you can delight your friends with gourmet hamburgers, fajitas and bacon gruyere pancakes, too. Wolf's signature red knobs add a nice pop of contrast in your industrial décor.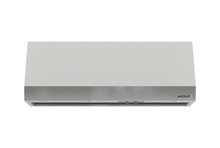 FUNCTIONAL FOCAL POINT
Certainly, the Wolf 48" pro wall hood does an excellent job of whisking away cooking smoke and odors. But its robust look also creates a stunning focal point for your cooking area.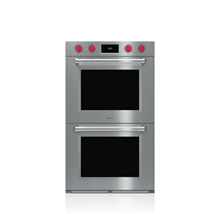 GUESSWORK? GONE.
Wolf M series ovens not only deliver the reliable, even heating of dual convection (imagine a better batch of chocolate chip cookies than Mom's!), they also offer ten cooking modes that allow almost hands-off meal preparation. Professional M series models are the first Wolf wall ovens to feature the red control knobs – a perfect complement to your rangetop in form and function.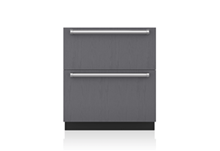 HIDEAWAY FOOD STORAGE
You need more refrigerator space, but you want to keep your design clean, and your sight lines open. What to do? Add Sub-Zero 30" undercounter refrigerator and freezer units, which provide convenient food storage anywhere you need it. When finished with custom panels and handles, they will literally disappear into surrounding cabinetry for a seamless elegance.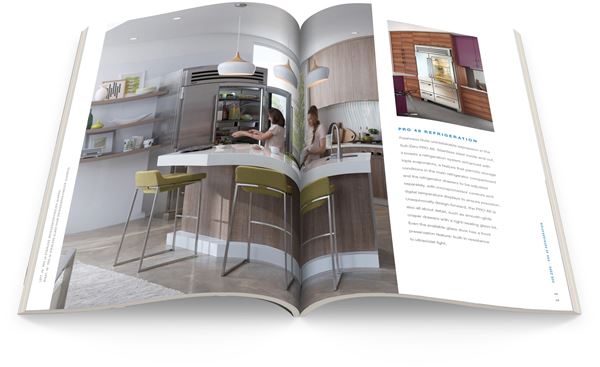 Request a brochure
Dozens of pages of inspiring photos, product features and more in print and online. Discover a world of beautiful, high-performance and top-quality products for your dream kitchen with this free guide from Sub-Zero, Wolf, and Cove.
Receive a printed brochure