24" Undercounter Refrigerator/Freezer - Panel Ready
UC-24C
UNDERCOUNTER REFRIGERATION WITH A TWIST
Sub-Zero refrigeration is anywhere refrigeration. It is designed to fit easily, seamlessly into any room in your home. The 24" Undercounter Refrigerator/Freezer is perhaps the prime example. It provides state-of-the-art preservation for both fresh and frozen foods, keeping them fresher longer. But it also provides something most compact refrigerators wouldn't even think of: an 8-bottle capacity sliding wine rack. Which makes this unit the best possible choice for master suite, study, home theatre as well as other rooms in your home.
The Sub-Zero UC-24C delivers 3.6 cu. ft of refrigerator storage, 1.1 cu. ft. of freezer storage. An easy-access touch control panel lets you precisely control temperatures, so fresh and frozen foods (and wine) get the conditions they need. Bright interior lighting makes everything easy to find. And adjustable spill-proof glass shelves give you organization options. The perfect small unit – especially if you're a wine lover. less
Product Features
Rigorously tested to ensure dependability

Each and every Sub-Zero appliance is rigorously stress-tested to perform for over 20 years of daily use and is backed by the strongest warranty in the industry.

Spill-proof glass shelves

Adjustable framed glass shelves contain small spills, for an interior that's always inviting and easy to clean.

Bright interior lighting

Makes it easy to pick out the items you want, day or night.

Adjust for perfect temps

Both fresh and frozen foods get exactly what they need: refrigerator adjusts from 34⁰F to 45⁰F and freezer from -5⁰F to 5⁰F.
Exceptional customer support

Whether you're shopping for appliances or have questions about those you already own, the Sub-Zero, Wolf, and Cove Customer Care team has a reputation for service that's as exceptional as its products

Fingertip control

Easy-access touch control panel has LCD display for easy reading, day or night.

Even has wine storage!

Something most beverage centers don't have. It features a smooth roller-glide shelf that holds up to seven 750 ml bottles.

Handy door storage

2-liter bottles store perfectly in the door, for easy access.
Specifications and Downloads
Roll over image to zoom. Click image for expanded view.
Interior images are intended for interior reference only.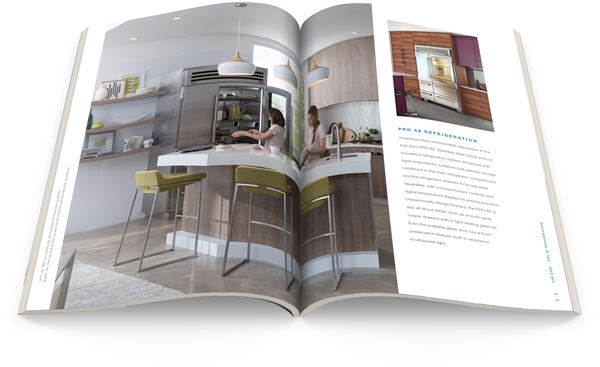 Request a brochure
Dozens of pages of inspiring photos, product features and more in print and online. Discover a world of beautiful, high-performance and top-quality products for your dream kitchen with this free guide from Sub-Zero, Wolf, and Cove.
Receive a printed brochure
"I got more ideas for my kitchen in 90 minutes than I did in 90 days on my own!" said one customer. Test drive working appliances. See full-scale kitchens of all styles. Talk with our experts. Get a taste for all your new kitchen can be.
Award-Winning Design Professionals
Partnering with a design professional to create your new kitchen will ensure that the end result matches your vision and suits your lifestyle. See below for a listing of award-winning design professionals in your area.
Ashburn, VA (20146) Change Location
Joanne Hudson Kitchens

KDC 2013-14

Showcase Kitchens

KDC 2010-12
Located at specific dealers near you, the Living Kitchen features Sub-Zero, Wolf, and Cove appliances in real kitchen settings and more resources for selecting the right products for your dream kitchen. Look inside a Living Kitchen.