36" Designer Refrigerator Drawers with Air Purification - Panel Ready
ID-36RP
REFRIGERATION FOR ANY ROOM
Think beyond the kitchen. Imagine enjoying fresh produce in the master suite, yogurt and juice in the breakfast room, chilled drinks in the gym or media room. The Sub-Zero 36" Designer Refrigerator Drawer brings cold storage to any room in your home, along with advanced food preservation features that keep your food fresher longer. No wilted lettuce, no wrinkly blueberries - just fresh, flavorful food for you, your family, your guests.
The ID-36RP holds 6.6 cu. ft. of food in two storage drawers with removable dividers. Sub-Zero refrigerators come with an air purification system (based on technology developed by NASA) that scrubs the air of ethylene and odor every 20 minutes. Smart-touch technology lets you control temperatures so food and drinks get precisely the cold they require. Soft-on LED lighting offers controllable degrees of brightness. And the customizable drawer fronts can be fitted with panels and handles that blend in with any room's décor. less
Product Features
Rigorously tested to ensure dependability

Each and every Sub-Zero appliance is rigorously stress-tested to perform for over 20 years of daily use and is backed by the strongest warranty in the industry.

The disappearing refrigerator

Every Sub-Zero designer refrigerator or freezer comes ready to be fitted with custom panels and handles for seamless installation with surrounding cabinetry. The design possibilities are truly endless. High-quality stainless steel panels and handles are available as accessories, too.

Smart-touch controls

The interactive and easy-to-use controls employ touchscreen technology to precisely regulate temperatures and give you more access to more settings. The control panel's small footprint further refines the interior.

Low-temperature/high-humidity storage zones

Crispers and deli drawers are strategically located near the evaporator to maintain temperatures a few degrees cooler than the rest of the unit. Drawers are sealed to lock in humidity and ensure freshness.
Exceptional customer support

Whether you're shopping for appliances or have questions about those you already own, the Sub-Zero, Wolf, and Cove Customer Care team has a reputation for service that's as exceptional as its products

Soft-on LED lighting

Energy-efficient LEDs offer varying degrees of brightness, enabling you to customize preferences by controlling intensity levels.




Soft-close doors and drawers

This feature, commonly found on high-end cabinetry, gives Sub-Zero Designer Refrigeration line-up a rich, sturdy feel and noiseless operation.

Air purification system fights spoilage, odors

Many fresh foods emit ethylene gas, a natural compound that hastens spoilage. Sub-Zero refrigerators come with an air purification system (based on technology developed by NASA) that scrubs the air of ethylene and odor every 20 minutes.
Specifications and Downloads
Roll over image to zoom. Click image for expanded view.
Interior images are intended for interior reference only.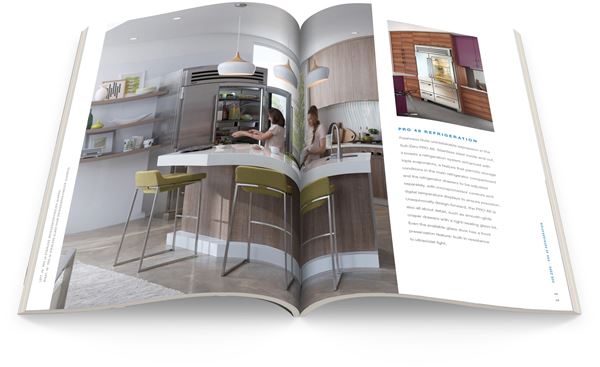 Request a brochure
Dozens of pages of inspiring photos, product features and more in print and online. Discover a world of beautiful, high-performance and top-quality products for your dream kitchen with this free guide from Sub-Zero, Wolf, and Cove.
Receive a printed brochure
Award-Winning Design Professionals
Partnering with a design professional to create your new kitchen will ensure that the end result matches your vision and suits your lifestyle. See below for a listing of award-winning design professionals in your area.
Fitchburg, WI (53711) Change Location
Deep River Partners - Milwaukee

de Giulio kitchen design, inc.

KDC 2017-18
KDC 2015-16
KDC 2013-14
KDC 2010-12

Snaidero - Chicago

KDC 2013-14
Located at specific dealers near you, the Living Kitchen features Sub-Zero, Wolf, and Cove appliances in real kitchen settings and more resources for selecting the right products for your dream kitchen. Look inside a Living Kitchen.