30" Designer Column Freezer with Ice Maker - Panel Ready
DEC3050FI
FINALLY THE FREEZER SPACE YOU CRAVE
You may have a large family, or buy meat in bulk from the local organic farm. You may entertain frequently. Or just have a serious ice cream habit. You're reading this because you need more freezer space. Rest assured, the Sub-Zero 30" Designer All Freezer Column will give it to you. With 15.5 cu. ft. of storage, it may actually triple the freezer capacity you have now. Pair it with the 30" Designer All Refrigerator Column and you'll have equally expansive storage for fresh foods too.
True to Sub-Zero's pioneering food preservation heritage, the DEC3050FI gives your frozen and convenience foods exactly the dry, frigid climate they need, so they stay fresher without freezer burn. An advanced water filtration system reduces pollutants, chlorine taste and odors. The ice maker includes a "max ice" feature capable of increasing production by an average of 30 percent for a 24-hour period. And as a Designer unit, it comes ready to be fitted with stainless steel panels or custom cabinetry panels that allow it to virtually disappear into your décor. less
Product Features
ClearSight™ LED Lighting

ClearSight™ LED lighting system fully illuminates the interior and reduces shadows

Easily Customize Settings

Easily customize settings with the tap of a finger via the conveniently accessible touch control panel

Adjustable Door Shelves

Position adjustable door shelves at various heights to accommodate assorted items

Locks in Cold Air With Magnetic System

Locks in cold air with a magnetic door seal system

Industry-Leading Warranty

Sub-Zero offers an industry-leading full two-year warranty on appliances, along with a full five-year sealed system warranty and a limited twelve-year sealed system warranty
Sleek Stainless Accents

Sleek stainless accents trim the interior, matching the sophistication of the exterior

Night Mode

Night Mode optimizes the interior lighting based on the detected ambient light, reducing the brightness by 90% in dim environments

Fresh-Tasting Filtered Ice

Fresh-tasting, filtered ice ready on-demand and activate Max Ice Mode to temporarily increase ice production

Wi-Fi Enabled Features

Wi-Fi enabled features provide remote access from your mobile device

Accepts Custom Panels

Accepts custom panels for an integrated look within cabinetry or stainless-steel accessory panels and handles to match other Sub-Zero, Wolf, and Cove products
Specifications and Downloads
Roll over image to zoom. Click image for expanded view.
Interior images are intended for interior reference only.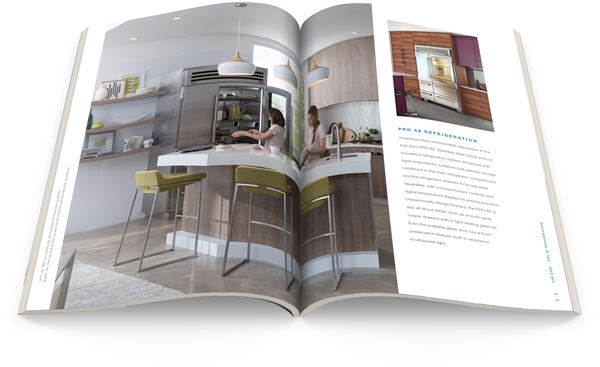 Request a brochure
Dozens of pages of inspiring photos, product features and more in print and online. Discover a world of beautiful, high-performance and top-quality products for your dream kitchen with this free guide from Sub-Zero, Wolf, and Cove.
Receive a printed brochure
Award-Winning Design Professionals
Partnering with a design professional to create your new kitchen will ensure that the end result matches your vision and suits your lifestyle. See below for a listing of award-winning design professionals in your area.
Fitchburg, WI (53711) Change Location
Deep River Partners - Milwaukee

de Giulio kitchen design, inc.

KDC 2017-18
KDC 2015-16
KDC 2013-14
KDC 2010-12
Located at specific dealers near you, the Living Kitchen features Sub-Zero, Wolf, and Cove appliances in real kitchen settings and more resources for selecting the right products for your dream kitchen. Look inside a Living Kitchen.