30" Built-In Column Wine Storage
WS-30/S
THE ENEMIES OF WINE MEET THEIR MATCH
Temperature, humidity, light, vibration – all these things can harm the flavor of your favorite Chablis or Cabernet. But WS-30 Built-in Wine Storage blends superior-grade materials, advanced technologies and a 65-year tradition of American craftsmanship to defeat the enemies of wine, and make sure that you'll always get the best out of every glass, with every bit of the bouquet and taste that the vintner intended.
It has two individually controlled storage zones, so you can store and serve both reds and whites at the proper temperature. Racks glide smoothly in and out, providing access without agitating wine. UV-resistant, bronze-tinted glass prevents light exposure. Dual evaporators maintain constant, moderate humidity. With fifteen racks and a 147-bottle capacity, the WS-30 is our largest wine storage unit, ideal for anyone whose wine collection is a treasured centerpiece of kitchen or study. less
Product Features
Accommodates different size bottles

Safely stores 750 ml bottles, half bottles and magnums.

Illuminated touch control panel

Easy to read, easy to use – allows you to control temperature settings to within 1⁰F of set point.

Discreet interior lighting

Makes it easy to find the bottle you want. Just switch it on, and your wine becomes a decorative element in the room.

Star-K compliant

Just install the harness kit for Sabbath and holiday mode.

Prized bottles?

The illuminated display shelf is the perfect place to store them, for you and your guests to appreciate.
Dual evaporators control humidity

Constant, moderate humidity means no dry corks or wet, peeling labels – and no oxidation robbing wine of its proper flavor.

UV-resistant glass prevents light exposure

UV-resistant, dark-tinted glass shields wine from the harmful rays that can cause premature aging and even unpleasant odors.

Home security system connection

Protect your significant wine investment by linking in with your home security system.

Roller-glide shelves minimize vibration

Shelves cradle bottles safely, glide smoothly in and out to provide access wihtout agitating wine.

Independent storage zones control temperature

Two independent storage zones maintain wine's temperature within 1° of set point, holding wines at precisely the storage and serving temperature you prefer.
Specifications and Downloads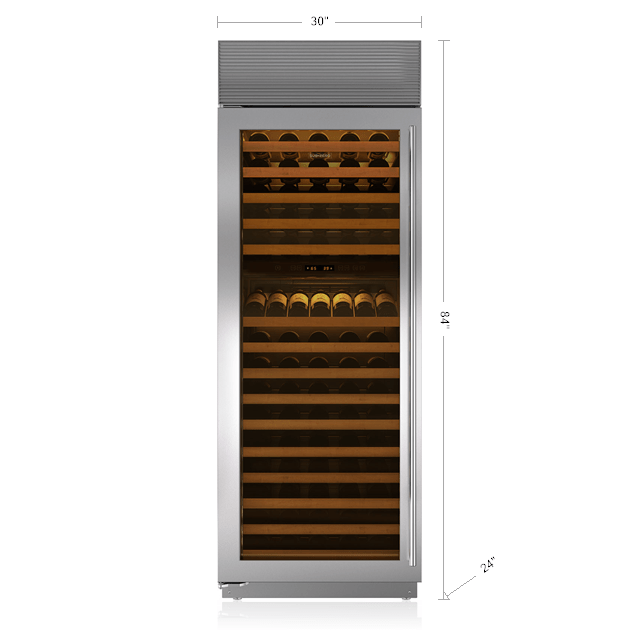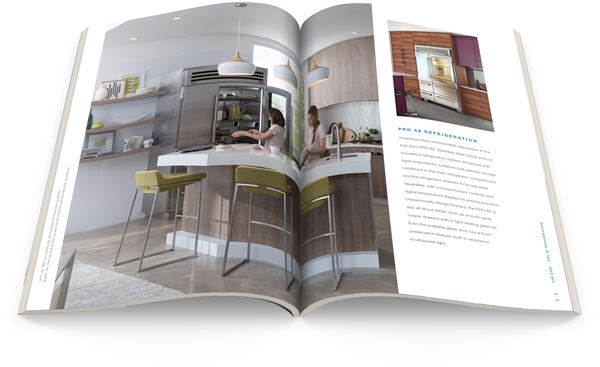 Request a brochure
Dozens of pages of inspiring photos, product features and more in print and online. Discover a world of beautiful, high-performance and top-quality products for your dream kitchen with this free guide from Sub-Zero, Wolf, and Cove.
Receive a printed brochure
"I got more ideas for my kitchen in 90 minutes than I did in 90 days on my own!" said one customer. Test drive working appliances. See full-scale kitchens of all styles. Talk with our experts. Get a taste for all your new kitchen can be.
Award-Winning Design Professionals
Partnering with a design professional to create your new kitchen will ensure that the end result matches your vision and suits your lifestyle. See below for a listing of award-winning design professionals in your area.
Ashburn, VA (20146) Change Location
Joanne Hudson Kitchens

KDC 2013-14

Showcase Kitchens

KDC 2010-12
Located at specific dealers near you, the Living Kitchen features Sub-Zero, Wolf, and Cove appliances in real kitchen settings and more resources for selecting the right products for your dream kitchen. Look inside a Living Kitchen.