24" Cup Warming Drawer - Stainless
CW24/S
A WARM CUP IS A SATISFYING CUP
Coffee is one of the great joys of life – the way it smells, the way it tastes, and of course the keen anticipation of your first morning cup. But a room temperature porcelain cup quickly saps the heat from your coffee beverage, making it not nearly so enjoyable as it should be. So along along with the Wolf Coffee System, consider investing in the Wolf 24" Cup Warming Drawer, a perfect companion in both function and appearance.
The drawer uses air circulation to gently warm cups to the ideal temperature for your drink, yet still keep them cool enough to hold comfortably. Hidden electronic touch controls allow you to set a temperature range of 85° F to 175° F, and include automatic shut off and delayed start features. Full-extension, ball-bearing drawer glides operate smoothly, while a full-coverage, non-slip mat keeps cups and dinnerware from joggling. It's a worthy addition to any coffee lover's kitchen. less
Product Features
Gentle, even heat

Horizontal column fan on the side of the unit circulates air gently and evenly warms cups and dishes to the ideal temperature.

Hidden interior control panel

Electronic touch controls let you adjust the temperature range from 85°F to 175°F.

One-handed opening

Just push and pull open – handy if you've got a plate or pot in your hand. "No handle" design for a seamless look in your kitchen.
Room for 40 cups!

Large interior capacity (.8 cu. ft.) warms up 40 tea cups or 80 espresso cups, ensuring the perfect temperature for whatever you're drinking. Spacious enough for dinnerware too, allowing you to heat multiple cups and dishes at the same time. Fits cups/dishes up to 4" tall. 50 lb. capacity.

Removable non-slip mat

Hold cups in place and makes clean-up a breeze.

Design Flexibility

Black glass and stainless steel options work with any kitchen design.
Specifications and Downloads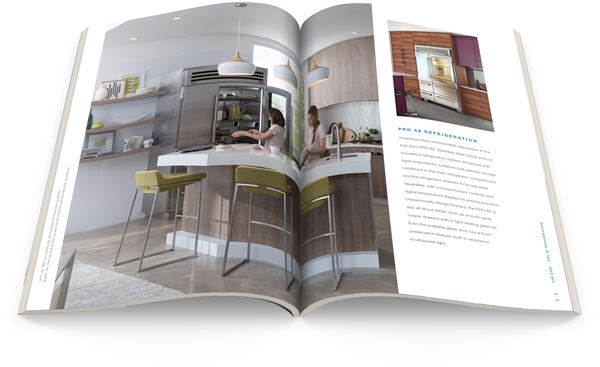 Request a brochure
Dozens of pages of inspiring photos, product features and more in print and online. Discover a world of beautiful, high-performance and top-quality products for your dream kitchen with this free guide from Sub-Zero, Wolf, and Cove.
Receive a printed brochure
"I got more ideas for my kitchen in 90 minutes than I did in 90 days on my own!" said one customer. Test drive working appliances. See full-scale kitchens of all styles. Talk with our experts. Get a taste for all your new kitchen can be.
Award-Winning Design Professionals
Partnering with a design professional to create your new kitchen will ensure that the end result matches your vision and suits your lifestyle. See below for a listing of award-winning design professionals in your area.
Ashburn, VA (20146) Change Location
Joanne Hudson Kitchens

KDC 2013-14

Showcase Kitchens

KDC 2010-12
Located at specific dealers near you, the Living Kitchen features Sub-Zero, Wolf, and Cove appliances in real kitchen settings and more resources for selecting the right products for your dream kitchen. Look inside a Living Kitchen.