24" Designer Undercounter Refrigerator/Freezer with Ice Maker – Panel Ready
DEU2450CI
Product Features
SEAMLESS, FLEXIBLE DESIGN

Fully customizable exterior, accepting custom panels for an integrated look within cabinetry or stainless steel accessory panels and handles to coordinate with other Sub-Zero, Wolf, and Cove appliances

On-door shelf

On-door shelf easily accommodates a wide variety of condiments and beverages, with ample room for larger two-liter bottles

Intuitive, on-door touch control panel

Intuitive, on-door touch control panel offers ergonomic, convenient access to settings

Offers precise temperature control

Offers precise temperature control within one degree of setpoint, preserving dairy, produce, craft beer, and other perishables at their optimal temperature

Wi-Fi enabled features

Wi-Fi enabled features allow for remote temperature and Max Ice Mode control, provide important door-ajar notifications, and assist with remote service diagnostic—all from your mobile device
Seamlessly integrating anywhere

Seamlessly integrating anywhere, undercounter refrigeration adds comfort to your master suite, creates a corner for libations in the study—the options are endless

Stores fresh ice

Stores fresh ice in a removable freezer storage bin, and yields extra cubes with Max Ice Mode

Cleanup is simple with nano-coated, spill-proof shelf

Cleanup is simple with nano-coated, spill-proof shelf

Soft-on LED lighting

Soft-on LED lighting fully illuminates the interior when the door is open
Specifications and Downloads
Roll over image to zoom. Click image for expanded view.
Interior images are intended for interior reference only.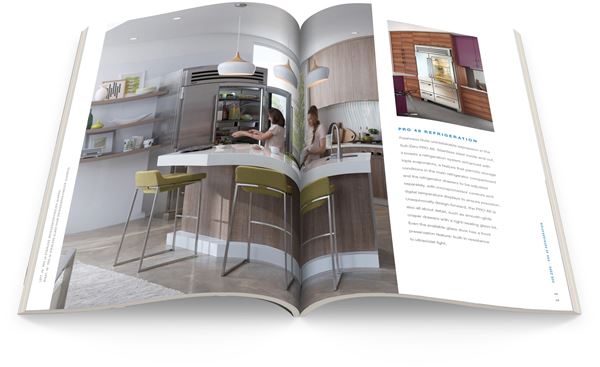 Request a brochure
Dozens of pages of inspiring photos, product features and more in print and online. Discover a world of beautiful, high-performance and top-quality products for your dream kitchen with this free guide from Sub-Zero, Wolf, and Cove.
Receive a printed brochure
Award-Winning Design Professionals
Partnering with a design professional to create your new kitchen will ensure that the end result matches your vision and suits your lifestyle. See below for a listing of award-winning design professionals in your area.
Fitchburg, WI (53711) Change Location
Deep River Partners - Milwaukee

de Giulio kitchen design, inc.

KDC 2017-18
KDC 2015-16
KDC 2013-14
KDC 2010-12

Snaidero - Chicago

KDC 2013-14
Located at specific dealers near you, the Living Kitchen features Sub-Zero, Wolf, and Cove appliances in real kitchen settings and more resources for selecting the right products for your dream kitchen. Look inside a Living Kitchen.