36" Designer Column Freezer with Ice Maker - Panel Ready
IC-36FI
FINALLY, THE FREEZER SPACE YOU CRAVE
You may have a large family, or buy meat in bulk from the local organic farm. You may entertain frequently. Or just have a serious ice cream habit. You're reading this because you need more freezer space. Rest assured, the Sub-Zero 36" Designer freezer column will give it to you. With 20 cu. ft. of storage, it may actually triple the freezer capacity you have now. Pair it with the 36" Designer refrigerator column and you'll have equally expansive storage for fresh foods too.
True to Sub-Zero's pioneering food preservation heritage, the IC-36FI gives your frozen and convenience foods exactly the dry, frigid climate they need, so they stay fresher without freezer burn. An advanced water filtration system for ice reduces pollutants, chlorine taste and odors. The ice maker includes a "max ice" feature capable of increasing production by an average of 30 percent for a 24-hour period. And three adjustable wire shelves, three storage drawers and five adjustable door shelves give you countless organizational options.

less
Product Features
The disappearing refrigerator

Every Sub-Zero designer refrigerator or freezer comes ready to be fitted with custom panels and handles for seamless installation with surrounding cabinetry. The design possibilities are truly endless. High-quality stainless steel panels and handles are available as accessories, too.

Uniform height

All full-size Designer refrigerators stand a uniform 84" tall for a standardized and consistent look when multiple units are installed side by side.




Water-filtration system

Designed to reduce contaminants and chlorine taste and odors when filtering water for ice, this low-maintenance system uses a filter built to last 1 year or 750 gallons. Replacement is fast and easy.

Magnetic door seal system locks in cold air

One-piece construction, extra-heavy insulation and magnetic gaskets around every door lock in cold air. Seals are so secure that even after power outages of multiple days, owners report no thawing of their frozen foods!

Rigorously tested to ensure dependability

Each and every Sub-Zero appliance is rigorously stress-tested to perform for over 20 years of daily use and is backed by the strongest warranty in the industry.
Smart-touch controls

The interactive and easy-to-use controls employ touchscreen technology to precisely regulate temperatures and give you more access to more settings. The control panel's small footprint further refines the interior.

All-freezer storage

Perfect if you need greater capacity for your frozen foods, or extra design flexibility in your kitchen, the all-freezer unit pairs easily with all-refrigerator units.





Soft-on LED lighting

Energy-efficient LEDs offer varying degrees of brightness, enabling you to customize preferences by controlling intensity levels.




Automatic ice maker with "max ice" feature

Provides crescent-shaped ice cubes and includes a "max ice" feature capable of increasing ice production by an average of 30 percent for a 24-hour period – just the boost you need for parties and holidays.

Exceptional customer support

Whether you're shopping for appliances or have questions about those you already own, the Sub-Zero, Wolf, and Cove Customer Care team has a reputation for service that's as exceptional as its products
Specifications and Downloads
Roll over image to zoom. Click image for expanded view.
Interior images are intended for interior reference only.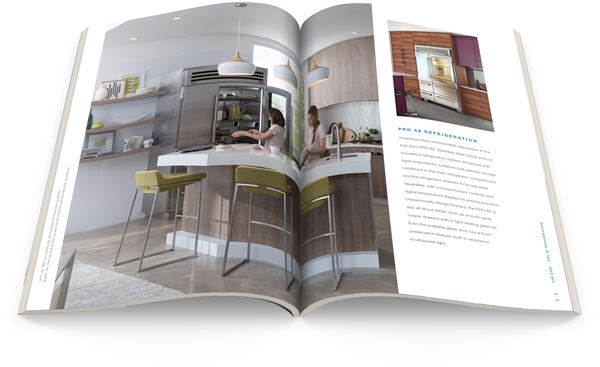 Request a brochure
Dozens of pages of inspiring photos, product features and more in print and online. Discover a world of beautiful, high-performance and top-quality products for your dream kitchen with this free guide from Sub-Zero, Wolf, and Cove.
Receive a printed brochure
"I got more ideas for my kitchen in 90 minutes than I did in 90 days on my own!" said one customer. Test drive working appliances. See full-scale kitchens of all styles. Talk with our experts. Get a taste for all your new kitchen can be.
Award-Winning Design Professionals
Partnering with a design professional to create your new kitchen will ensure that the end result matches your vision and suits your lifestyle. See below for a listing of award-winning design professionals in your area.
Ashburn, VA (20146) Change Location
KDW Home / Kitchen Designworks

KDC 2013-14

Joanne Hudson Associates

KDC 2013-14

St. Charles of New York, Inc.

KDC 2010-12
KDC 2010-12
Located at specific dealers near you, the Living Kitchen features Sub-Zero, Wolf, and Cove appliances in real kitchen settings and more resources for selecting the right products for your dream kitchen. Look inside a Living Kitchen.