36" Designer Column Refrigerator - Panel Ready
IC-36R
THE EXTRA REFRIGERATION YOU'VE WISHED FOR
How often have you wished for a larger refrigerator? Weekly? Daily? We invite you to think modular and solve your food storage problems once and for all. The Sub-Zero Designer 36" All-Refrigerator Column delivers an impressive 21.4 cu. ft. of well-organized refrigerator storage – likely at least 50% more than you have now. You'll have flavorful food on hand no matter how large your family or how often you entertain.
Rest assured it will stay fresher longer, thanks to the IC-36R's advanced food preservation features. Sub-Zero refrigerators come with an air purification system (based on technology developed by NASA) that scrubs the air of ethylene and odor every 20 minutes. A magnetic door seal system locks in cold, while a state-of-the-art micro-processor precisely controls temperatures. And it can be fitted with stainless steel panels or custom cabinetry panels to virtually disappear into your décor. less
Product Features
Rigorously tested to ensure dependability

Each and every Sub-Zero appliance is rigorously stress-tested to perform for over 20 years of daily use and is backed by the strongest warranty in the industry.

The disappearing refrigerator

Every Sub-Zero designer refrigerator or freezer comes ready to be fitted with custom panels and handles for seamless installation with surrounding cabinetry. The design possibilities are truly endless. High-quality stainless steel panels and handles are available as accessories, too.

Nano-coated spill-proof shelving

A microthin coating applied to the perimeter of each shelf prevents spills from spreading, making clean-up a breeze and eliminating the need for plastic edging. The result is a clear, clean interior that maximizes visibility of food.
Exceptional customer support

Whether you're shopping for appliances or have questions about those you already own, the Sub-Zero, Wolf, and Cove Customer Care team has a reputation for service that's as exceptional as its products

All-refrigerator storage

Perfect if you need greater capacity for your refrigerated foods, or extra design flexibility in your kitchen, the all-refrigerator unit pairs easily with all-freezer units. Advanced food storage technology includes an air purification system and high-humidity, lower temperature crisper drawers to keep produce fresh.

Soft-close doors and drawers

This feature, commonly found on high-end cabinetry, gives Sub-Zero Designer Refrigeration line-up a rich, sturdy feel and noiseless operation.
Specifications and Downloads
Roll over image to zoom. Click image for expanded view.
Interior images are intended for interior reference only.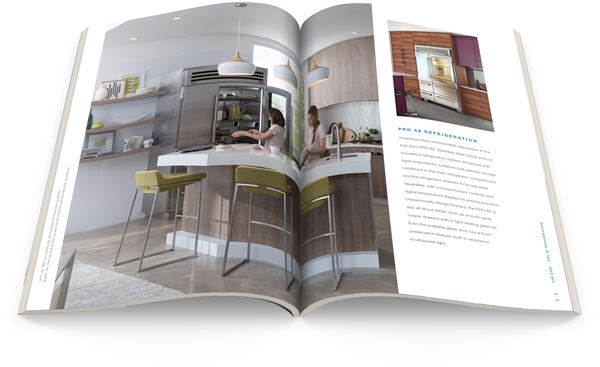 Request a brochure
Dozens of pages of inspiring photos, product features and more in print and online. Discover a world of beautiful, high-performance and top-quality products for your dream kitchen with this free guide from Sub-Zero, Wolf, and Cove.
Receive a printed brochure
Award-Winning Design Professionals
Partnering with a design professional to create your new kitchen will ensure that the end result matches your vision and suits your lifestyle. See below for a listing of award-winning design professionals in your area.
Fitchburg, WI (53711) Change Location
Deep River Partners - Milwaukee

de Giulio kitchen design, inc.

KDC 2017-18
KDC 2015-16
KDC 2013-14
KDC 2010-12
Located at specific dealers near you, the Living Kitchen features Sub-Zero, Wolf, and Cove appliances in real kitchen settings and more resources for selecting the right products for your dream kitchen. Look inside a Living Kitchen.