Sea Bass with Chive-Garlic Compound Butter
Paired with a simple compound butter, this recipe lets the flaky sea bass shine.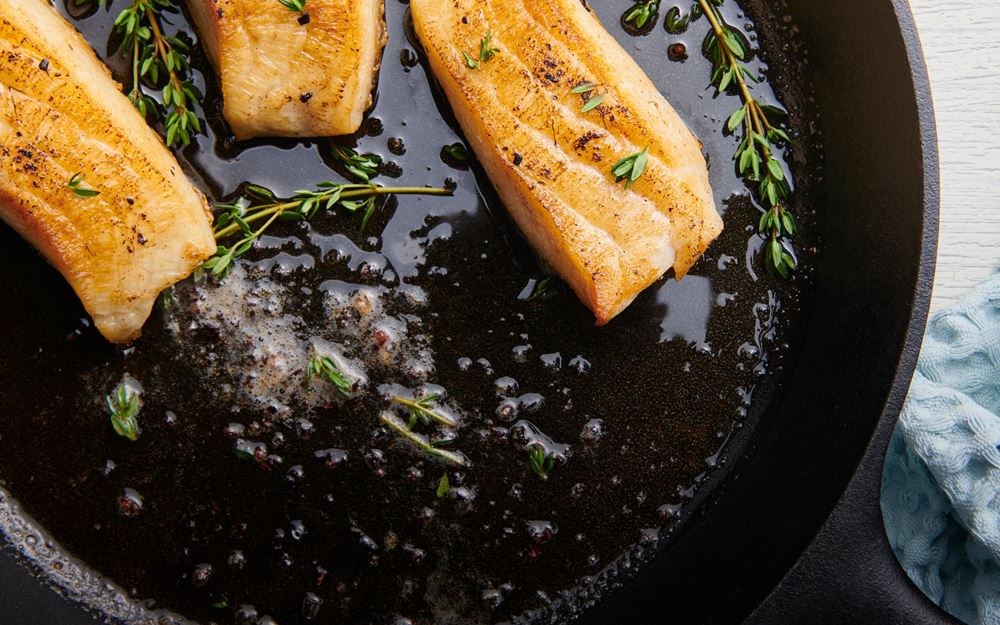 Preparation Method
To Make Compound Butter
In a medium bowl, beat butter with an electric mixer until light and fluffy.
Add chives, garlic, and salt; mix until thoroughly combined.
Spoon mixture into the shape of a log on a piece of wax or parchment paper. Fold the paper over itself. Using your hands, shape the butter into a cylinder, about 1½ inches wide. Once shaped, twist the ends to seal.
Place in the freezer to set, about 20 minutes. Refrigerate until ready to serve or for up to one month. When ready to serve, slice four ¼-inch rounds and remove the parchment.
To Make Sea Bass
Preheat the oven to 375°F Convection Mode with a rack set at position "3."
Generously season sea bass with salt and pepper.
In a large, oven-safe cast iron skillet over medium heat, warm the oil until a few water droplets sizzle when carefully sprinkled in the skillet. Sear sea bass, skin side up, until well browned and easily releases from pan, about 4 minutes. Flip over and cook until seared, about 1 minute.
Transfer the pan to the oven and roast about 5 minutes or cooked to the desired degree of doneness.
Serve each fillet with a round of compound butter on top.
Products Used in this Recipe