Tortillas
Like homemade pasta, homemade tortillas make a meal extra special yet only require a simple list of ingredients. While homemade tortillas are a bit time consuming, their texture and fresh corn flavor far outshine store-bought varieties.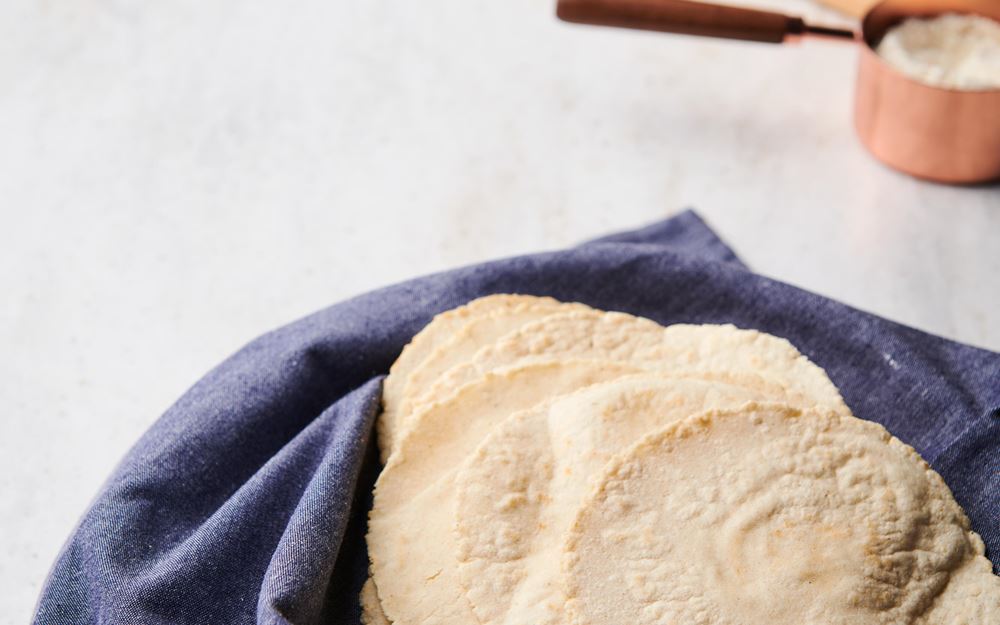 Preparation Method
1. In a large mixing bowl, combine masa harina and salt. Add 1 cup of the warm water and stir until the water is absorbed. Add the rest of the water, a tablespoon at a time, until the flour melds into a dough. By hand, knead the dough into a cohesive ball. If the dough is sticking to your hands, add a sprinkle of masa harina.
2. Separate dough into golf-ball-size balls. This will make tortillas that are approximately 4 inches across.
3. Line a tortilla press with plastic or a Ziplock bag slit open at the sides. Flatten dough balls. Alternatively, flatten dough balls under a heavy flat-bottomed pan or skillet.
4. Heat griddle to medium-high heat. Add a tortilla and flip after 10 seconds. Then cook each side for 1–2 minutes or until light brown spots form. Continue with the remaining tortillas. Serve immediately or store in an airtight container in the refrigerator.
Products Used in this Recipe