24" Transitional Framed Gas Cooktop
CG243TF/S
"MELT" DOES NOT MEAN "SCORCH SLOWLY"
Is there any heartbreak to compare with finding that your cooktop just turned a pound of Belgian chocolate from ganache to trash? Low-heat finesse, not just high Btu-power, sets this Wolf 24" gas cooktop apart from its rivals, protecting your investment in fine ingredients. No need to hover with a worried eye – your chocolate melts, and you stay cool.

Three dual-stacked burners give you greater control over a wide range of heat output, from 18,000 Btu for restaurant-quality sears and faster boil times to a mere breath of flame for gentle simmering of soups and sauces. A seamless stainless steel burner pan makes cleanup easy. And best of all, the 24" transitional framed gas cooktop can be paired with module and transitional framed induction cooktops for a custom cooking array.

less
Product Features
Rigorously tested to ensure dependability

Each and every Wolf appliance is rigorously stress-tested to perform for over twenty years of daily use and is backed by the strongest warranty in the industry.

Spark ignition system for each burner

Each burner has a sensor that detects if the flame has gone out while you're cooking and automatically re-ignites it for improved temperature control and added safety.

Easy-to-clean burner pan

Made of seamless stainless steel, so clean up is a breeze.

Create a custom cooking array

Wolf transitional framed cooktops have the same brushed stainless frame as module cooktops. Use them a la carte for a custom cooking array.

Stylish controls

Stainless control knobs capped in black are set against an all-glass control panel. LED-backlit indicator lights appear only as controls are engaged, giving the panel a clean look.
Exceptional customer support

Whether you're shopping for appliances or have questions about those you already own, the Sub-Zero, Wolf, and Cove Customer Care team has a reputation for service that's as exceptional as its products.

Simmer and melt with complete confidence

The lower tier of the Wolf dual-stacked burner provides a range of precision control down to the merest breath of a flame, to splendidly melt fine chocolate or reduce sauces without scorching, or keep soups at an ideal, gently-bubbling simmer for hours.

Cast-iron burner grate with easy-slide finish

Continuous cast-iron grate with a matte black, porcelain finish lets you slide pots easily on and off heat, or from one burner to another.

Small Spaces Compatible

Our new gas cooktop fits into the smallest condo or galley kitchens. Yet it delivers the exceptional cooking performance you'd expect from Wolf.

POWERFUL AND PRECISE BURNERS

Wolf's patented dual-stacked burner design means each spot on your cooktop is really two burners in one. The upper tier of the back burner produces up to 18,000 Btu for searing steaks and fast boils.

Specifications and Downloads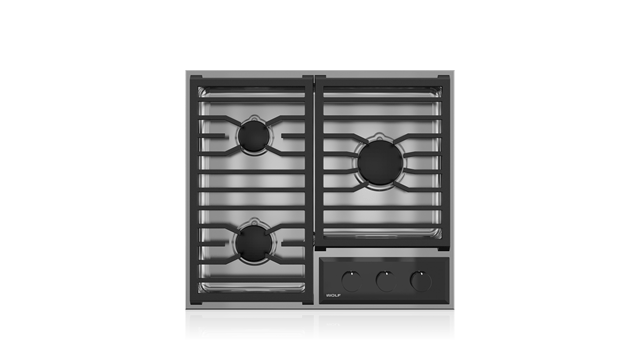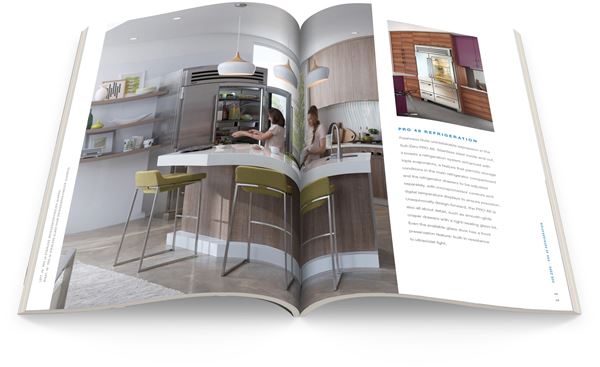 Request a brochure
Dozens of pages of inspiring photos, product features and more in print and online. Discover a world of beautiful, high-performance and top-quality products for your dream kitchen with this free guide from Sub-Zero, Wolf, and Cove.
Receive a printed brochure
Award-Winning Design Professionals
Partnering with a design professional to create your new kitchen will ensure that the end result matches your vision and suits your lifestyle. See below for a listing of award-winning design professionals in your area.
Fitchburg, WI (53711) Change Location
Deep River Partners - Milwaukee

de Giulio kitchen design, inc.

KDC 2017-18
KDC 2015-16
KDC 2013-14
KDC 2010-12

Snaidero - Chicago

KDC 2013-14
Located at specific dealers near you, the Living Kitchen features Sub-Zero, Wolf, and Cove appliances in real kitchen settings and more resources for selecting the right products for your dream kitchen. Look inside a Living Kitchen.