48" Ceiling-Mounted Hood - Stainless Steel
VC48S
SLEEK, CONTEMPORARY VENTILATION
The Wolf ceiling-mounted hood in stainless steel disappears into the ceiling, powerful, yet unassuming. It's the final touch to a thoughtfully designed, professional quality kitchen. Behind its sculpted lines, there's hard-nosed performance that will keep the cooking area bright, clean and fresh, no matter what's on the menu.
Powerful multi-speed blowers whisk away smoke and odors. Bright LED lighting with dual settings illuminates the cooking surface. Control the blower and lighting easily with the remote control. Aluminum mesh filters remove easily and come clean in the dishwasher. Delay-off feature automatically turns the blower off. A blower is required. less
Product Features
Bright LED Light Bars

Two LED light bars with two brightness settings illuminate your cooking surface so you can see when everything is done to perfection.

Remote Control

Control the blower and lighting with an ADA compliant remote. The controls on the hood are discreet to keep the sleek look of the vent face.

Dishwasher-safe filters

Stainless steel, covered aluminum mesh filters are dishwasher-safe and easy to maintain. An indicator light even alerts you when the filters need cleaning.
Design Flexibility

No chimney means this hood can be installed over an island or against a wall for greater design flexibility, an appliance meant to blend in instead of stand out.

Stainless Steel Finish

Heavy-duty stainless steel with a classic brushed aluminum finish matches other Sub-Zero and Wolf products with a ceiling application that disappears for a contemporary look.

Powerful blower options

Customize your hood's performance to the cooking job at hand with multiple capacity options in internal, in-line or remote blowers.
Specifications and Downloads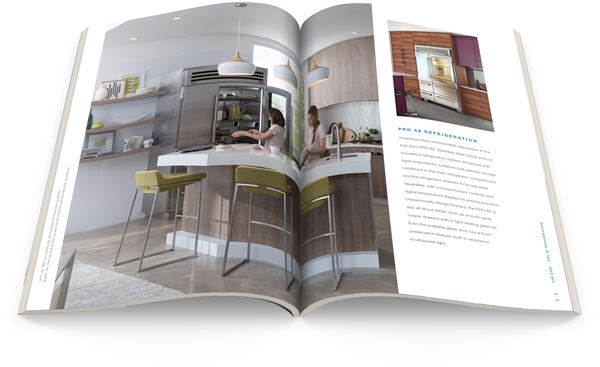 Request a brochure
Dozens of pages of inspiring photos, product features and more in print and online. Discover a world of beautiful, high-performance and top-quality products for your dream kitchen with this free guide from Sub-Zero, Wolf, and Cove.
Receive a printed brochure
"I got more ideas for my kitchen in 90 minutes than I did in 90 days on my own!" said one customer. Test drive working appliances. See full-scale kitchens of all styles. Talk with our experts. Get a taste for all your new kitchen can be.
Award-Winning Design Professionals
Partnering with a design professional to create your new kitchen will ensure that the end result matches your vision and suits your lifestyle. See below for a listing of award-winning design professionals in your area.
Ashburn, VA (20146) Change Location
Joanne Hudson Kitchens

KDC 2013-14

Showcase Kitchens

KDC 2010-12
Located at specific dealers near you, the Living Kitchen features Sub-Zero, Wolf, and Cove appliances in real kitchen settings and more resources for selecting the right products for your dream kitchen. Look inside a Living Kitchen.