Dual Fuel Ranges

Wolf's professional heritage, stunning aesthetic, and innovative performance in one bold appliance. Features patented dual-stacked, sealed gas burners topside and a Dual VertiFlow™ convection electric oven with Gourmet Mode below. Available in 30" and 36" widths, or up to 48" and 60" widths with two ovens.
WOLF DUAL FUEL RANGE with The Conversational Chef
Crisp crusted pizza or perfectly done chocolate chip cookies – this range defines delicious.
THE SECRET OF BAKESTONE PIZZA
If only you could get that stone oven pizzeria flavor in your own kitchen. Well now you can, with the help of Chef Coleman and the bake stone accessory for the Wolf dual fuel range. Watch as he and Wolf owner Missy whip up two of the most delicious pizzas you've ever seen.
DUAL-STACKED BURNERS LET YOU SEAR AND SIMMER LIKE A PRO
High Btus are easy. It's the low end where most gas burners let you down. But the dual-stacked burners found on every Wolf dual fuel and gas range deliver at both the high and low end, as Chef Coleman demonstrates in "Absolute Control from Simmer to Sear."
BEYOND BREAKFAST WITH THE RANGETOP GRIDDLE
Certainly, you can fix eggs and pancakes on the griddle of the Wolf dual fuel range. But how about lamb sliders and other dinner delicacies? Chef Coleman shows Wolf owners Holly and Carly how to use the griddle like it's the most useful pan ever.
Chocolate Chip Nirvana
Three trays of perfectly browned chocolate chip cookies, baked in one easy batch. That's just one of the culinary feats you can master with the dual convection system in Wolf dual fuel ranges, and our Chef Coleman shows you how it's done.
Reliably Even Heat
Wolf's state-of-the-art Dual VertiFlow™ convection system is the key to reliable cooking and baking. Its two fans and four heating elements work in concert to warm and evenly distribute the air, reducing hot and cold spots and enabling consistent multi-rack cooking. Directed by electronic touch controls, the oven offers 10 chef-tested cooking modes to precisely tackle every type of dish.
Power plus finesse improves results
Look closely at the gas burners on a Wolf dual fuel range or gas range, rangetop or cooktop. They're called dual-stacked, sealed burners. See the two tiers of flame ports on each burner, one above the other? One delivers higher heat; the other comes on for lower heat settings. Turn it way up for high-Btu searing heat. Continue to turn the knob for the merest breath of flame for simmering without boiling and melting without scorching.
And the continuum of control you have in between– it's like nothing you've ever cooked with before.
SEE ALL OPTIONS IN PERSON
Even "test drive" appliances at an official Sub-Zero, Wolf, and Cove showroom!
Request an Appointment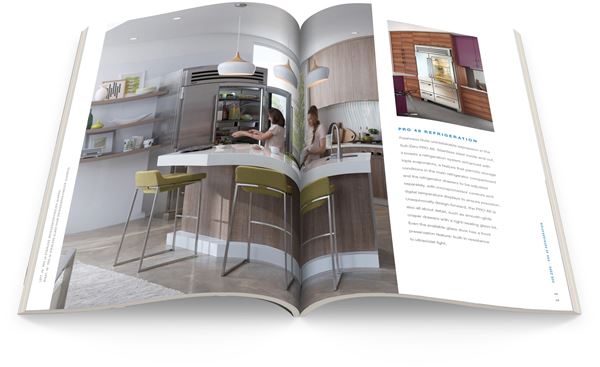 Request a brochure
Dozens of pages of inspiring photos, product features and more in print and online. Discover a world of beautiful, high-performance and top-quality products for your dream kitchen with this free guide from Sub-Zero, Wolf, and Cove.
Receive a printed brochure