30" E Series Transitional Built-In Single Oven
SO3050TE/S/T
Featuring enhanced cooking performance inside, and cleaner, design-friendly aesthetics on the outside, the E Series Built-In Oven is the impressive product of Wolf's celebrated engineering and design. Its advanced dual convection system and chef-tested modes—including
effortless Gourmet Mode—ensure guesswork-free cooking and predictably delicious results. With its refined, clean lines, the oven's distinct transitional style integrates seamlessly in kitchens of diverse aesthetics. less
Product Features
Wolf's dual convection system

Wolf's dual convection system featured in the upper oven provides reliably even heat, reduces hot and cold spots, and enables consistent multi-rack cooking

Gourmet Mode

Gourmet Mode offers nearly 50 presets to automatically cook a delicious set of impressive dishes

Temperature Probe

The temperature probe alerts you when your dish has reached the desired temperature

Wi-Fi Enabled

The oven's Wi-Fi enabled feature lets you remotely preheat, select modes, and adjust oven temperature from your mobile device

Get the most out of your oven

Get the most out of your oven with tips and recipes from the Mastering the E Series Oven guide
Ten Cooking Modes

Ten cooking modes, including Bake, Broil, Convection, Convection Roast, Dehydrate, Gourmet, Proof, Roast, Stone, and Warm, were developed by Wolf chefs to maximize the performance of your oven

Large Full-color Touch Screen

The large full-color touch screen and stainless touch controls are intuitive and easy-to-read

Oven Offers Self-Clean

The oven offers self-clean, delayed start, timed cook, and Sabbath features

Coordinates with other Sub-Zero, Wolf, and Cove appliances

Coordinates with other Sub-Zero, Wolf, and Cove appliances to create a cohesive look in your kitchen
Specifications and Downloads
Roll over image to zoom. Click image for expanded view.
Interior images are intended for interior reference only.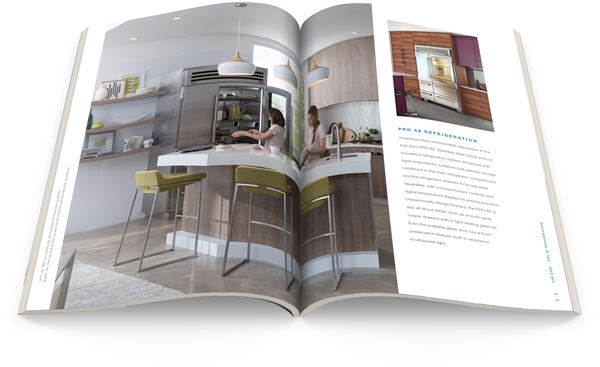 Request a brochure
Dozens of pages of inspiring photos, product features and more in print and online. Discover a world of beautiful, high-performance and top-quality products for your dream kitchen with this free guide from Sub-Zero, Wolf, and Cove.
Receive a printed brochure
"I got more ideas for my kitchen in 90 minutes than I did in 90 days on my own!" said one customer. Test drive working appliances. See full-scale kitchens of all styles. Talk with our experts. Get a taste for all your new kitchen can be.
Award-Winning Design Professionals
Partnering with a design professional to create your new kitchen will ensure that the end result matches your vision and suits your lifestyle. See below for a listing of award-winning design professionals in your area.
Ashburn, VA (20146) Change Location
Joanne Hudson Kitchens

KDC 2013-14

Showcase Kitchens

KDC 2010-12
Located at specific dealers near you, the Living Kitchen features Sub-Zero, Wolf, and Cove appliances in real kitchen settings and more resources for selecting the right products for your dream kitchen. Look inside a Living Kitchen.