Legacy Model - 30" E Series Transitional Built-In Single Oven
SO30TE/S/TH
DUAL CONVECTION – TWICE AS DELICIOUS!
The typical oven fudges the truth. Set it to 350°F and you might get 350°F – in part of the oven. That's why you have to rotate cookie sheets for anything close to consistent browning. The Wolf 30" E Series Transitional Oven eliminates that kind of uncertainty. Two fans and four heating elements control heat and airflow for more uniform temperature. 350°F is 350°F everywhere. No rotation of pans or crossing of fingers required.
Crispy, chewy, gooey, crusty – every dish has a particular quality that you can achieve with the dual convection oven. It has 10 fingertip cooking modes – precise, intuitive control to ensure the meal you bring to the table is every bit as delicious as the meal you had in mind. No guesswork – you'll cook with more confidence than ever before. Spinach soufflé? Thanksgiving turkey? Bring it on! less
Product Features
Rigorously tested to ensure dependability

Each and every Wolf appliance is rigorously stress-tested to perform for over twenty years of daily use and is backed by the strongest warranty in the industry.

Is it done yet?

No need to open the oven to check, and double check, the level of doneness. The temperature probe alerts you when your dish has reached the desired temperature. The ultimate convenience for busy gourmets.

10 cooking modes for predictably delicious results

Precisely control heat and airflow, providing just the right cooking environment for everything from Cornish hens to cherry pie to butternut squash. Ten modes are Bake, Roast, Broil, Convection, Convection Bake, Convection Roast, Convection Broil, Bake Stone, Proof and Dehydrate.

Cobalt blue porcelain interior

Wolf's signature aesthetics enhance the oven's interior, creating a bold cooking backdrop.

Design flexibility

Built-in E series ovens can be installed flush with surrounding cabinetry to complement an overall integrated kitchen design.
Exceptional customer support

Whether you're shopping for appliances or have questions about those you already own, the Sub-Zero, Wolf, and Cove Customer Care team has a reputation for service that's as exceptional as its products.

Obstacle-free cooking environment

A hidden bake element allows for obstacle-free cleaning of the oven's floor, while a recessed broil element provides more room for large dishes.

Adjustable oven racks for cooking convenience

30" and 36" E series built-in ovens come with three adjustable racks: one standard rack, one full-extension easy-glide rack and one full extension door-glide rack that places heavier dishes easily and safely within reach.

Convenient features

Wonderfully easy to use, with self clean, delayed start, timed cook and Sabbath mode settings.

Dual convection for faster, more consistent cooking

Dual fans – each with its own heating element – work in concert with two additional heating elements to control heat and airflow, eliminating "cold spots" and ensuring more consistent, more delicious results – even when using multiple racks at once.
Specifications and Downloads
Roll over image to zoom. Click image for expanded view.
Interior images are intended for interior reference only.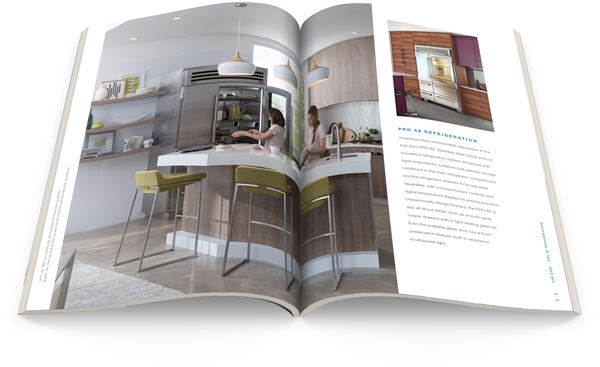 Request a brochure
Dozens of pages of inspiring photos, product features and more in print and online. Discover a world of beautiful, high-performance and top-quality products for your dream kitchen with this free guide from Sub-Zero, Wolf, and Cove.
Receive a printed brochure
"I got more ideas for my kitchen in 90 minutes than I did in 90 days on my own!" said one customer. Test drive working appliances. See full-scale kitchens of all styles. Talk with our experts. Get a taste for all your new kitchen can be.
Award-Winning Design Professionals
Partnering with a design professional to create your new kitchen will ensure that the end result matches your vision and suits your lifestyle. See below for a listing of award-winning design professionals in your area.
Ashburn, VA (20146) Change Location
Joanne Hudson Kitchens

KDC 2013-14

Showcase Kitchens

KDC 2010-12
Located at specific dealers near you, the Living Kitchen features Sub-Zero, Wolf, and Cove appliances in real kitchen settings and more resources for selecting the right products for your dream kitchen. Look inside a Living Kitchen.