30" M Series Contemporary Stainless Steel Built-In Double Oven
DO3050CM/S
COOK EXACTLY THE MEALS YOU HAVE IN MIND
Is there a signature dish you've never quite dared to prepare? Beef Wellington, perhaps, or spinach soufflé? Now is your time, with the new Wolf 30" M series built-in double oven. It takes the guesswork out of even the most difficult dishes. Just dial in any of 10 precision cooking modes, and the oven delivers the optimal heat and airflow for the dish. No hot or cold spots to spoil your results. Just beautifully browned roast chicken, perfect chocolate chip cookies, crisply crusted casserole. You're in culinary heaven.
The Dual VertiFlow™ system is Wolf's most advanced dual convection ever, quickly saturating the oven cavity with consistent heat across all racks. The cooking modes are precise and intuitive, to ensure that the meal you bring to the table is every bit as delicious as the meal you had in mind. A Gourmet feature has a menu of presets that automatically controls the cooking, making commonly prepared meals quick and easy. With the new M series oven, you can put beef Wellington back on the menu. less
Product Features
Rigorously tested to ensure dependability

Each and every Wolf appliance is rigorously stress-tested to perform for over twenty years of daily use and is backed by the strongest warranty in the industry.

10 cooking modes for predictably delicious results

Precisely control heat and airflow, providing just the right cooking environment for everything from braised short ribs to empanadas to classic chocolate chip cookies. 10 modes are Convection, Bake, Roast, Broil, Convection Roast, Gourmet, Proof, Warm, Dehydrate and Stone.

Color touchscreen controls

A color touch screen makes controlling basic oven functions as easy as ever, while providing advanced control that standard button interfaces can't - for instance, choosing from a library of presets in Gourmet mode.

Easily monitor progress inside

Large, triple-pane glass windows and three bright halogen lights give you a clear view of your dish without having to open the door and disturb the cooking process.

Is it done yet?

No need to open the oven to check, and double check, the level of doneness. The temperature probe alerts you when your dish has reached the desired temperature. The ultimate convenience for busy gourmets.
Exceptional customer support

Whether you're shopping for appliances or have questions about those you already own, the Sub-Zero, Wolf, and Cove Customer Care team has a reputation for service that's as exceptional as its products.

Gourmet feature for foolproof meals

With Gourmet, a menu of almost 50 presets automatically controls the cooking, making commonly prepared meals quick and easy, from pork tenderloin to lasagna to double-crusted cherry pie. Gourmet tells you the proper rack position, sets the right cooking mode, even adjusts temperature on its own. You just sit back and wait for a perfectly prepared dish.

Standard or flush inset installation

M series ovens can be installed flush with surrounding cabinetry to complement an overall integrated kitchen design.

LARGEST CAPACITY EVER

At 5.1 cu. ft., it's the most spacious Wolf built-in oven, with a curved back wall for increased capacity and better air flow, able to accommodate multiple dishes at the same time.

Stainless steel handleless design

Its stainless steel handleless design coordinates with Wolf contemporary products – especially the convection steam oven and coffee system – while providing a flush-inset installation option for your wall oven.

Specifications and Downloads
Roll over image to zoom. Click image for expanded view.
Interior images are intended for interior reference only.

Prime rib at home? Absolutely!
Saturday night at the steakhouse. Crowded, noisy – but the prime rib is so succulent. Now you can recreate that showstopper meal at home, with a little encouragement from Wolf's Chef Coleman and the Gourmet mode of the M series oven.
The "dinner dilemma" solved!
What's for dinner? The same nagging question, night after night. Wolf's Chef Coleman comes to the rescue, with an anytime dinner solution that requires no meal planning, no recipes - and no stress.
Feed a crowd and still enjoy the party
Wolf's Chef Coleman prepares a leg of lamb, mac and cheese, roasted potatoes, vegetables and mixed berry crisp all at the same time – and with the most delicious results. Enjoy a glass of wine while dual convection takes care of dinner.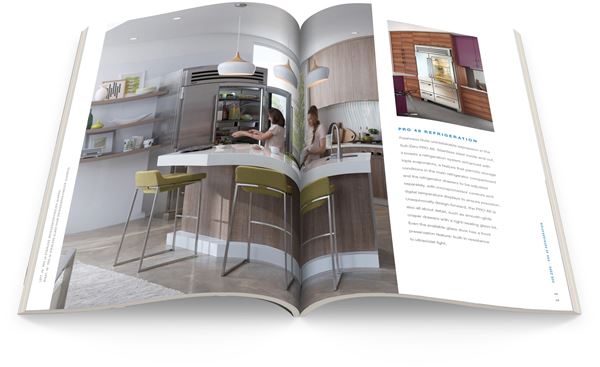 Request a brochure
Dozens of pages of inspiring photos, product features and more in print and online. Discover a world of beautiful, high-performance and top-quality products for your dream kitchen with this free guide from Sub-Zero, Wolf, and Cove.
Receive a printed brochure
Award-Winning Design Professionals
Partnering with a design professional to create your new kitchen will ensure that the end result matches your vision and suits your lifestyle. See below for a listing of award-winning design professionals in your area.
Fitchburg, WI (53711) Change Location
Deep River Partners - Milwaukee

de Giulio kitchen design, inc.

KDC 2017-18
KDC 2015-16
KDC 2013-14
KDC 2010-12

Snaidero - Chicago

KDC 2013-14
Located at specific dealers near you, the Living Kitchen features Sub-Zero, Wolf, and Cove appliances in real kitchen settings and more resources for selecting the right products for your dream kitchen. Look inside a Living Kitchen.