30" Transitional Drawer Microwave
MD30TE/S
YOU FIXED WHAT IN YOUR MICROWAVE?
You might be surprised at the microwave meals whipped up lately in the Wolf test kitchen. Chicken cordon bleu. Glazed salmon. Swiss sauce cauliflower. Meatloaf as good as Mom's. (Just don't tell Mom.) Yes, the Wolf 30" Drawer Microwave is a true cooking instrument, capable of making real meals, real fast. And it installs in spaces conventional microwaves can't. As a speed cooking tool, the MD30 excels, with 950 watts of power and a 1.2 cu. ft. capacity. More to the point, it's equipped with innovative features that make preparing real meals easier than ever.
A Gourmet mode detects moisture and humidity levels, and automatically adjusts cook time and power level for delicious results from several preset recipes. There are quick-start options for melting, softening and defrosting. The "Keep Warm" mode turns your Wolf microwave into a warming drawer for up to 90 minutes. And oh yes – it pops movie theatre-quality popcorn too. That's a lot of cooking function in a small package. less
Product Features
Rigorously tested to ensure dependability

Each and every Wolf appliance is rigorously stress-tested to perform for over twenty years of daily use and is backed by the strongest warranty in the industry.

20% larger capacity

Greater-than-ordinary capacity accommodates 9"x13" pans and cups up to 7" high.

Classic stainless steel

Beautifully matches Wolf E series ovens.

Control panel lock

It can easily be locked for child safety, or to prevent unwanted use.
Exceptional customer support

Whether you're shopping for appliances or have questions about those you already own, the Sub-Zero, Wolf, and Cove Customer Care team has a reputation for service that's as exceptional as its products.

Design flexibility

Can be installed in a standard or flush inset (accessory required) application.

Easy operation

10 power levels and sensor cooking make for greater convenience – and more delicious results.

Keep Warm mode

Turns your microwave into a warming drawer, keeping cooked food at its delicious ready-to-serve temperature for up to 90 minutes.
Specifications and Downloads
Roll over image to zoom. Click image for expanded view.
Interior images are intended for interior reference only.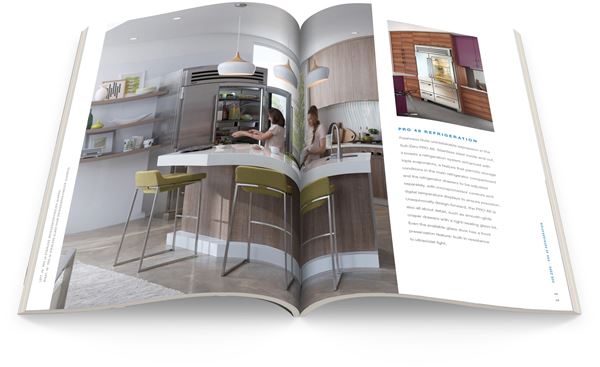 Request a brochure
Dozens of pages of inspiring photos, product features and more in print and online. Discover a world of beautiful, high-performance and top-quality products for your dream kitchen with this free guide from Sub-Zero, Wolf, and Cove.
Receive a printed brochure
Award-Winning Design Professionals
Partnering with a design professional to create your new kitchen will ensure that the end result matches your vision and suits your lifestyle. See below for a listing of award-winning design professionals in your area.
Fitchburg, WI (53711) Change Location
Deep River Partners - Milwaukee

de Giulio kitchen design, inc.

KDC 2017-18
KDC 2015-16
KDC 2013-14
KDC 2010-12

Snaidero - Chicago

KDC 2013-14
Located at specific dealers near you, the Living Kitchen features Sub-Zero, Wolf, and Cove appliances in real kitchen settings and more resources for selecting the right products for your dream kitchen. Look inside a Living Kitchen.