24" Vacuum Seal Drawer
VS24
A CULINARY STAPLE
You can have the culinary tool professional chefs have enjoyed for years. The Wolf chamber-style vacuum seal drawer removes air and seals food, including liquids, in airtight bags to keep it in perfect condition until you're ready to serve it, and it helps deliver more delicious meals too. Buy steak, chicken, fish, produce at the farmer's market, or at your favorite bulk merchant. Portion it out, seal it in airtight bags, and store it for later use.
Step it up a notch by vacuum sealing foods with herbs and spices and marinate in less than an hour. Vacuum packing food reduces moisture loss and improves temperature transfer during cooking. Get tenderness you never imagined could be enjoyed at home with sous vide. Designed to fit seamlessly into any kitchen design. Choose from 24" or 30" stainless steel, black glass, or custom front panel accessory. Front panel accessory required. less
Product Features
Rigorously tested to ensure dependability

Each and every Wolf appliance is rigorously stress-tested to perform for over twenty years of daily use and is backed by the strongest warranty in the industry.

Not your countertop sealer

This chamber-style vacuum with three vacuum settings and three heat-sealing levels can handle liquids, and for fragile items, bags can be sealed without creating a vacuum.

Flexible Design Options

Hidden controls and handleless design keep the drawer concealed. Choose from 24" or 30" stainless steel, black glass, or custom front panel accessory. Front panel accessory required.
Exceptional customer support

Whether you're shopping for appliances or have questions about those you already own, the Sub-Zero, Wolf, and Cove Customer Care team has a reputation for service that's as exceptional as its products.

Invaluable Companion

Pair the chamber-style vacuum seal drawer with a Wolf oven or the steamer module to keep speed marinating and sous vide prep nearby.

Wine's Flavor Preserved

Protect and prolong the life of uncorked wine. Wine bottles and other rigid containers can be vacuum sealed using the attachment provided.
Specifications and Downloads
Roll over image to zoom. Click image for expanded view.
Interior images are intended for interior reference only.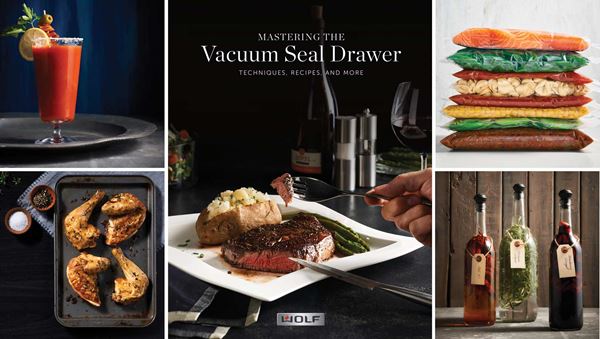 Master the Vacuum Seal Drawer
The tried and tested tips, tricks, and recipes found in this free guide will offer you a glimpse of many practical—and creative—uses for your vacuum seal drawer. Unlock your creativity, and lock in flavor and freshness.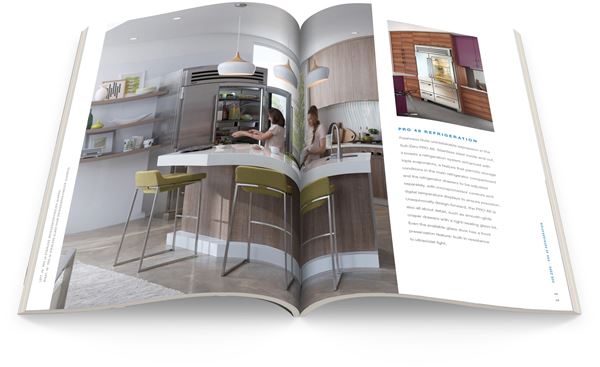 Request a brochure
Dozens of pages of inspiring photos, product features and more in print and online. Discover a world of beautiful, high-performance and top-quality products for your dream kitchen with this free guide from Sub-Zero, Wolf, and Cove.
Receive a printed brochure
Award-Winning Design Professionals
Partnering with a design professional to create your new kitchen will ensure that the end result matches your vision and suits your lifestyle. See below for a listing of award-winning design professionals in your area.
Fitchburg, WI (53711) Change Location
Deep River Partners - Milwaukee

de Giulio kitchen design, inc.

KDC 2017-18
KDC 2015-16
KDC 2013-14
KDC 2010-12

Snaidero - Chicago

KDC 2013-14
Located at specific dealers near you, the Living Kitchen features Sub-Zero, Wolf, and Cove appliances in real kitchen settings and more resources for selecting the right products for your dream kitchen. Look inside a Living Kitchen.