30" Classic Wine Storage - Panel Ready
CL3050W/O
Sub-Zero wine storage units are more than just coolers; they are guardians against heat, humidity, vibration, and light—the four enemies that can rob wine of its complexity, character, and taste.
Product Features
Store Red and Whites

Store reds and whites in separate temperature zones that keep wines at proper serving temperatures, within one degree of setpoint

Full-extension wine racks

Full-extension wine racks provide easy access to standard-size bottles, half bottles, and magnums without agitating others

UV-resistant glass

UV-resistant glass door shields wine from harmful light

Wi-Fi enabled features

Wi-Fi enabled features enable remote control of independent temperatures zones, provide important door-ajar notifications, and assist with remote service diagnostics—all from your mobile device

Industry-Leading Warranty

Sub-Zero offers an industry-leading full two-year warranty on appliances, along with a full five-year sealed system warranty and a limited twelve-year sealed system warranty
146 Bottle Capacity

Offers any-occasion-146-bottle capacity

Touch Control Panel

Touch control panel is conveniently located for easy access at the tap of a finger

Organized storage

Inventory tile system aids collection organization

Accepts Custom Panels

Accepts custom panels for an integrated look within cabinetry or stainless-steel accessory panels and handles to match other Sub-Zero, Wolf, and Cove products
Specifications and Downloads
Roll over image to zoom. Click image for expanded view.
Interior images are intended for interior reference only.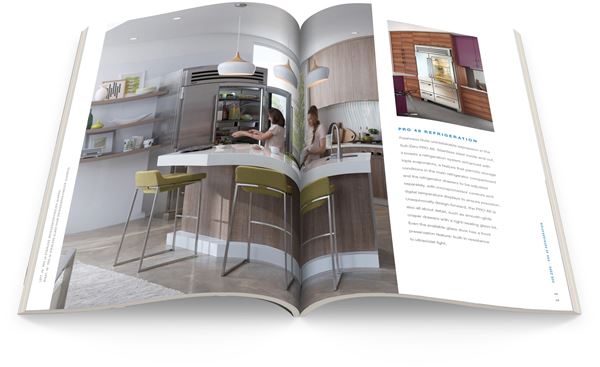 Request a brochure
Dozens of pages of inspiring photos, product features and more in print and online. Discover a world of beautiful, high-performance and top-quality products for your dream kitchen with this free guide from Sub-Zero, Wolf, and Cove.
Receive a printed brochure
Award-Winning Design Professionals
Partnering with a design professional to create your new kitchen will ensure that the end result matches your vision and suits your lifestyle. See below for a listing of award-winning design professionals in your area.
Fitchburg, WI (53711) Change Location
Deep River Partners - Milwaukee

de Giulio kitchen design, inc.

KDC 2017-18
KDC 2015-16
KDC 2013-14
KDC 2010-12

Snaidero - Chicago

KDC 2013-14
Located at specific dealers near you, the Living Kitchen features Sub-Zero, Wolf, and Cove appliances in real kitchen settings and more resources for selecting the right products for your dream kitchen. Look inside a Living Kitchen.