Best Cheesecake Ever
This recipe has never failed us. It always produces a final result that is exceptionally creamy and delicious.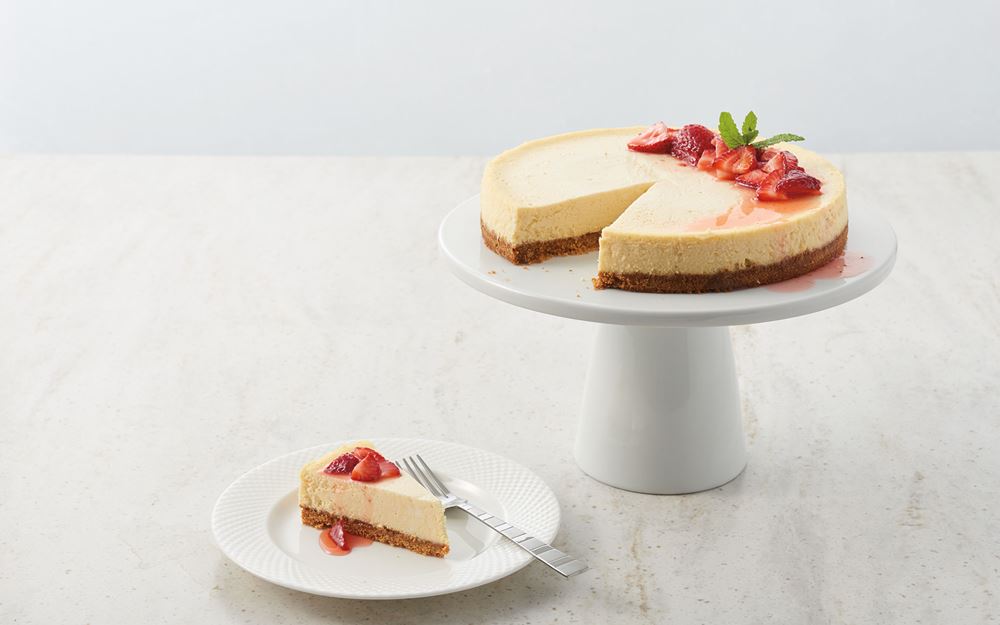 Before You Start
Have the cream cheese at room temperature. Do not rush the mixing, and be sure to fully cream the mixture so no lumps are present. You will need plastic wrap and aluminum foil for baking this cheesecake. While covering the cheesecake completely with plastic wrap and the lack of a water bath may be a departure from the way cheesecakes are normally baked, this method will produce a wonderfully smooth, no-crack cheesecake.
Preparation Method
CRUST
Preheat the oven on the Convection Mode at 325°F.
In a medium bowl combine the melted butter, sugar, and graham cracker crumbs and press into spring form pan.
Bake for 10 minutes.
Turn the oven off and remove the pan and allow to cool completely.
FILLING
In the bowl of a stand mixer fitted with the paddle attachment, beat the cream cheese and sugar until smooth.
Add the sour cream, lemon zest, and vanilla and mix until combined.
Add the cream and eggs and mix until smooth.
Pour into the spring form pan.
Cover the entire spring form pan with plastic wrap, wrapping it all the way around the pan twice. The plastic wrap should completely seal the spring form pan, top, bottom, and sides. Place the pan into the oven. Set the oven to Convection Steam Mode at 225˚. Bake for 1 hour and 15 minutes.
Products Used in this Recipe