Blue Cheese Stuffed Sirloin Burger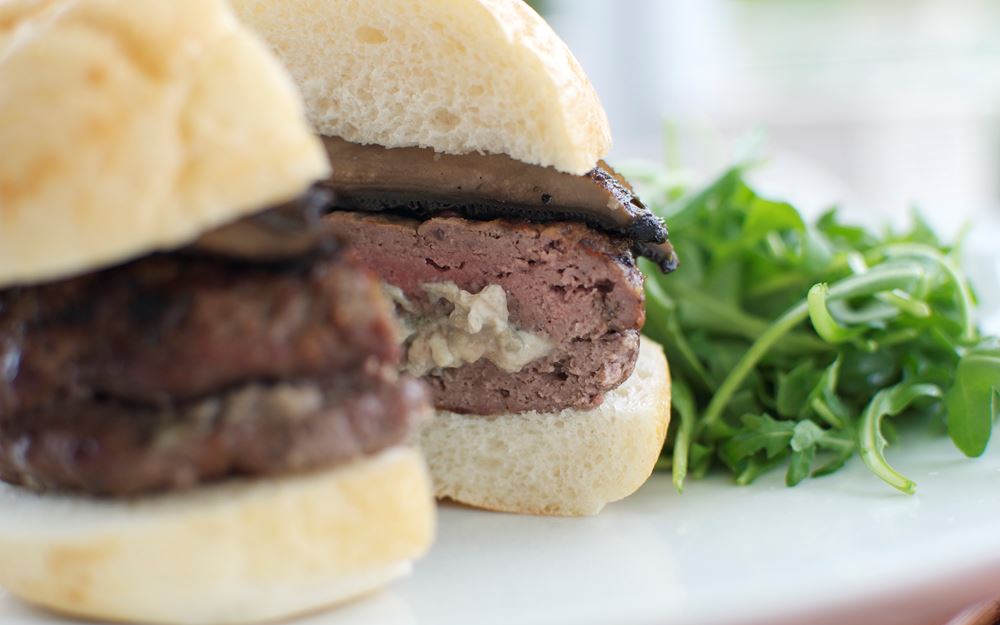 Preparation Method
In 2-quart saucepan on Wolf Cooktop over high heat, bring vinegar to a boil. Continue to boil until vinegar is reduced to 1/2 cup. Set aside to cool. Divide beef into eight 4-ounce ground sirloin balls. Flatten each ball into 4 inches in diameter and 3/4 inch thick. Divide cheese into 4 portions and place in center of 4 of the beef patties. Place the remaining 4 patties over the cheese and crimp the edges of the burger together to make a good seal. Gently flatten burgers, being careful not to push cheese through meat. Place on plate, cover with plastic wrap and place in Sub-Zero refrigerator.

To Prepare Mushrooms:
Combine olive oil, vinegar, herbs, garlic, salt and pepper and spread over the top and bottom of each mushroom. Set aside.

To Prepare Onions:
Lay the slices intact flat on a flat plate. Insert the skewers through the onions so they hold them together. Brush both sides with the reduced balsamic vinegar.

Preheat Wolf BBQ on medium heat for at least 15 minutes. When grill is fully preheated, season burgers and mushrooms with salt and pepper. Place burgers, mushrooms and onions on grill. Grill all for 12 to 15 minutes, turning over every 5 minutes. As the onions are grilling, brush with remaining reduced balsamic vinegar. When burgers are cooked to an internal temperature of 140° F in the meat, remove from grill to serving plates that have 1/2 cup arugula on each plate. Cut warm mushrooms into thin slices and place on each of the burgers. If any of the juices have run out of the mushrooms, pour over burgers. Pull skewers from onions and set onions around burgers. Serve immediately.