Braised Short Ribs
Unlike its beef stew cousin, boeuf bourguignon, this recipe features a thick, silky sauce that clings to the fork-tender short ribs.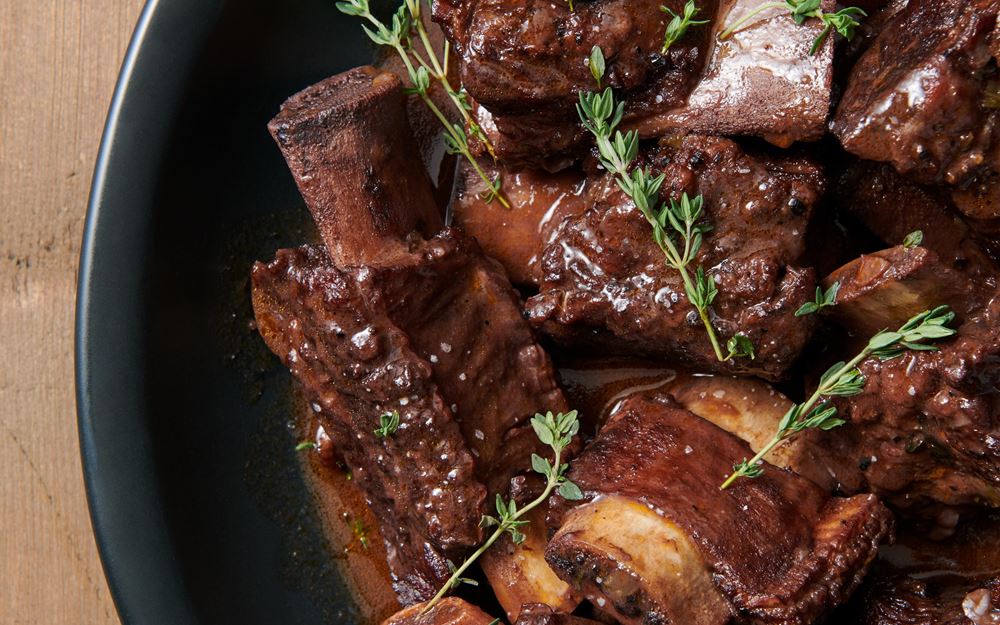 Preparation Method
1. Preheat oven to 350°F Convection Roast Mode with a rack set at position "2."
2. In a large Dutch oven over medium-high heat, heat oil. Season short ribs with salt and pepper. Working in two batches, brown short ribs on all sides, about 8 minutes per batch. Transfer short ribs to a plate.
3. Pour off all but 3 tablespoons of drippings from pot.
4. Add onions, carrots, and celery to pot, cooking and stirring over medium-high heat until onions are browned, about 5 minutes.
5. Add flour and tomato paste; cook, stirring constantly, until well combined and deep red, 2–3 minutes.
6. Stir in wine, and then add short ribs with any accumulated juices. Bring to a boil; lower to medium heat and simmer until wine is reduced by half, about 25 minutes.
7. Add garlic and all the herbs to pot. Stir in stock. Bring to a boil, cover, and transfer to oven.
8. Cook in oven until short ribs are tender, 2–2½ hours. Transfer short ribs to a platter.
9. Strain sauce from pot into a measuring cup. Spoon fat from surface of sauce and discard; season sauce to taste with salt and pepper.
10. Serve in shallow bowls over mashed potatoes with sauce spooned over the top.
Products Used in this Recipe