Brined Roast Chicken
The chicken can be brined for up to three days in the refrigerator, making this an easy prep-ahead meal.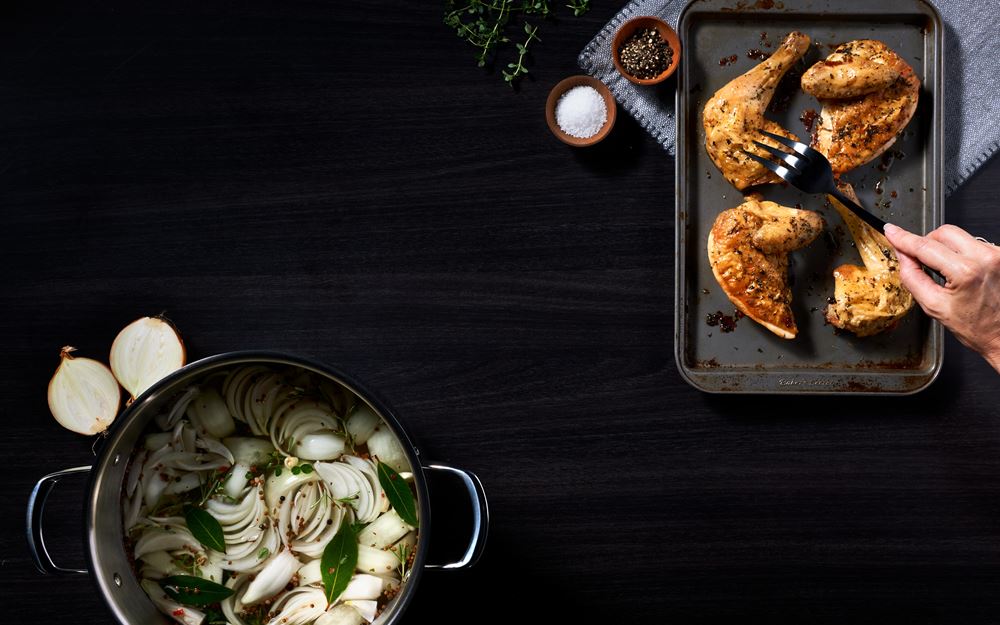 Preparation Method
1.Combine all brine ingredients, except ice, into a saucepan.
2. Bring to a simmer over medium heat. Once the brine is hot, remove from heat and let sit for 15 minutes.
3. Add ice and let sit in refrigerator until fully cooled.
4. Place chicken into a ziplock or vacuum- seal bag and add cooled brine. Do not strain out herbs and spices, as they will continue to add flavor while the meat is brining. Brine in the refrigerator for 48–72 hours.
5. Remove the chicken from the brine, pat dry, and arrange on a roasting pan or baking sheet lined with parchment paper. With a rack set at position "3," place pan in the oven.
6. Select Gourmet Mode and choose Poultry and then Fresh Pieces. Insert the probe into the thickest part of the meat, plugging the other end into the oven receptacle. Press Start.
7. Roast until the alert temperature is reached. Remove from the oven and let rest for 5 minutes before serving.
Products Used in this Recipe