Burnt Butter Pasta with Focaccia Bread and Artichokes
Three bloggers, Liz Stanley (Say Yes), Jordan Ferney (Oh Happy Day), and Gabrielle Blair (Design Mom), share their go-to recipes. Each can stand alone, but together they become a simple yet delicious meal. To see the story behind these recipes and more, visit reclaimthekitchen.com.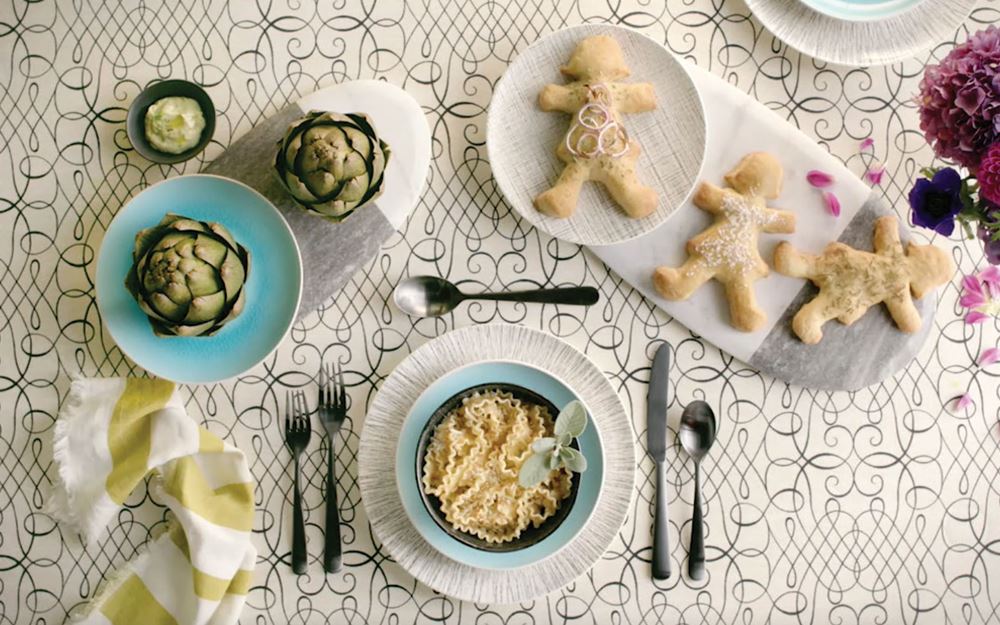 Preparation Method
Burnt Butter Pasta

Prepare pasta according to the directions on the box. Strain pasta. Add butter to pot. Return pasta to the pot. Add Parmesan cheese, greens, salt and pepper. Stir until combined and serve.
Focaccia "Figasa" Bread
Dissolve yeast in water. Add salt, sugar, garlic, flour and mix well. The dough should be sticky like biscuit dough. Cover and let rise till double (about an hour).
Spread in large jelly roll/cookie pan to edges. Take fingerfuls of butter and poke into dough 1-2" apart, all the way to the bottom. Salt dough. Let rise 1-2 hours. Bake at 350° F for 30 minutes. Throw chopped scallions on top during the last 10 minutes of baking.
NOTE: To expedite the process, add 2 packages of yeast. In that case, we can just let the dough sit for a few minutes, roll onto the pan and then let rise for an hour.
Artichokes Side
Bring a large pot of salted water to a boil. With a knife, cut off the stem, and about 3/4 inch of the top of the artichoke. Use kitchen shears to trim off the tougher artichoke leaves. Rinse the artichoke under running water. Place rinsed and trimmed artichokes directly into the pot of rapidly boiling water. Cover the pot with the lid and let artichokes cook at a high simmer on stove until they are tender. Cooking time can vary, depending on the size of the artichokes. A good estimate is 30 minutes for a medium-sized artichoke or 45 minutes for a jumbo-sized artichoke.
Remove the artichokes from the water and let them drain upside down. You can put them on a dish or in a strainer -- anywhere that will allow the water to come out.
For dipping, use melted butter with fresh lemon juice squeezed in, or mayo.
Note: when shopping for artichokes, look for ones with the petals closed, not open.