Camarones Y Arroz El Paso
Tracy Curts, from our Reclaim the Kitchen campaign, shares his go-to recipe. This seemingly complicated dish, can be ready in as little as 40 minutes. To see the story behind this recipe and more, visit reclaimthekitchen.com.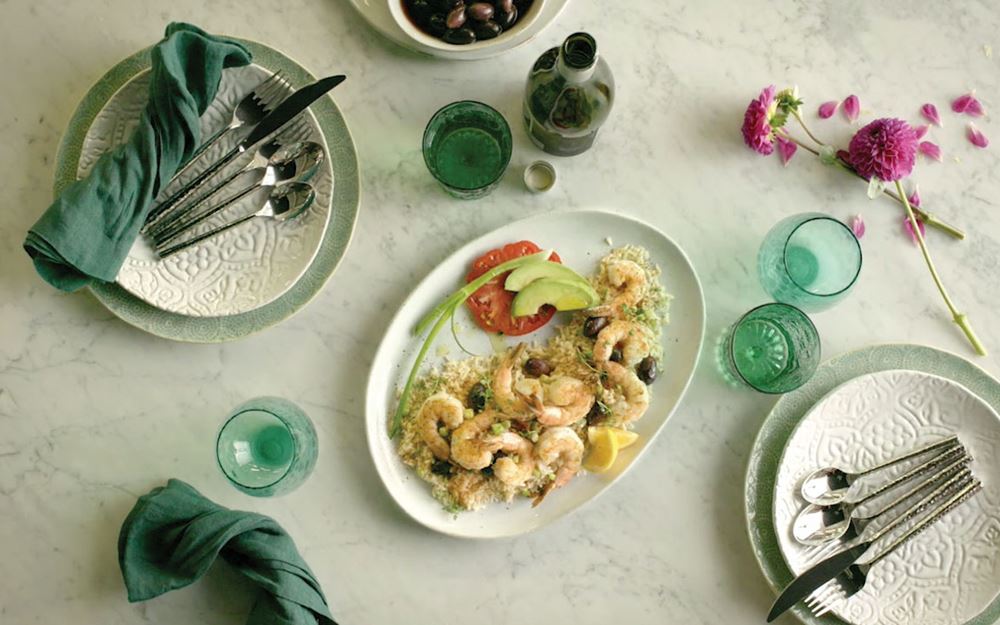 Preparation Method
Chop green onions and set aside. Heat vegetable oil in a heavy 3-quart pot. Add rice, and cook over high heat while stirring constantly until rice browns and seems to almost pop like popcorn. Take care that it doesn't burn. Toss in green onions and stir for about 30 seconds. Add chicken stock, and immediately turn heat down to low. Add seasonings: salt, peppers, soy sauce, garlic, bay leaf, lemon juice, and thyme. Cover and cook over low heat until rice is done and all liquid is absorbed (about 20 minutes).
In a heavy skillet (preferably cast-iron), melt butter, toss in shrimp, and sauté over medium-high heat. When they begin to turn pink or opaque, add soy sauce and dust the shrimp lightly with remaining cayenne. Try to time the sautéing so that it finishes when the rice is fully cooked so everything will be hot at the same time.
Place rice in a serving dish, pour shrimp and pan juices over the rice, then add toppings. First, sprinkle the cheese over the shrimp. Then add sour cream, onions, tomato, avocado, and black olives. Serve at once so the bottom is hot and the toppings are cold.