Cherry and Blueberry Cobbler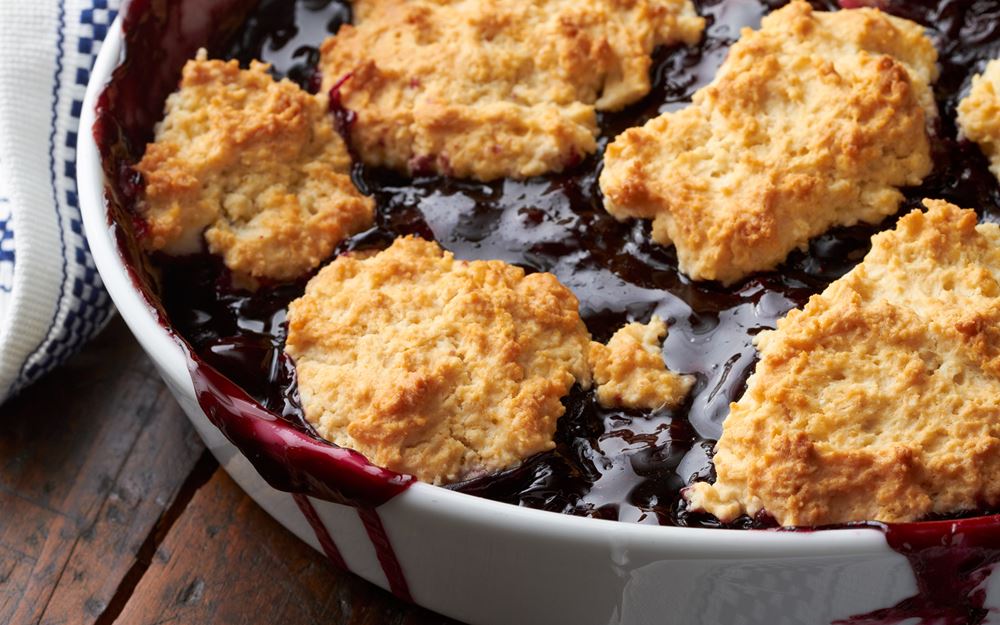 Preparation Method
Position oven rack to rack position 3. Preheat Wolf electric oven in BAKE at 350°F. In a small bowl, combine cornstarch and water. Set aside. Combine cherries, blueberries, sugar, lemon juice, orange liqueur, vanilla, cinnamon, and nutmeg in 6-qt stockpot. Place on Wolf cooktop over medium heat. Stir cornstarch mixture into the stockpot. Bring the mixture to a boil. Continue for 2 to 3 minutes, until thickened slightly. Pour mixture into a 13x9-inch baking dish and set aside.

In a mixing bowl** using a pastry blender, work together cold butter, flour, cornmeal, sugar, baking powder and salt. Work the dough until the butter is evenly distributed and barely holds together. Mix in milk and vanilla using rubber scraper. Using two spoons drop 24 dollops of about 3 tablespoons dough on the cobbler. Place cobbler in the oven. Bake 25 minutes or until golden brown. Bake no longer than 35 minutes.

*If using frozen fruit, there can be excess liquid in the bottom of the dish. Pour off the extra liquid and store in the Sub-zero refrigerator to be eaten later with biscuits.

**A food processor with cutting blade can be used to combine the cobbler topping. Pulse the ingredients until well blended.