Cinnamon Chocolate Chip Banana Bread
Banana bread is a favorite snack for adults and kids alike, and an efficient use for overripe bananas. Adding cinnamon and chocolate chips gives this classic a deliciously unique twist.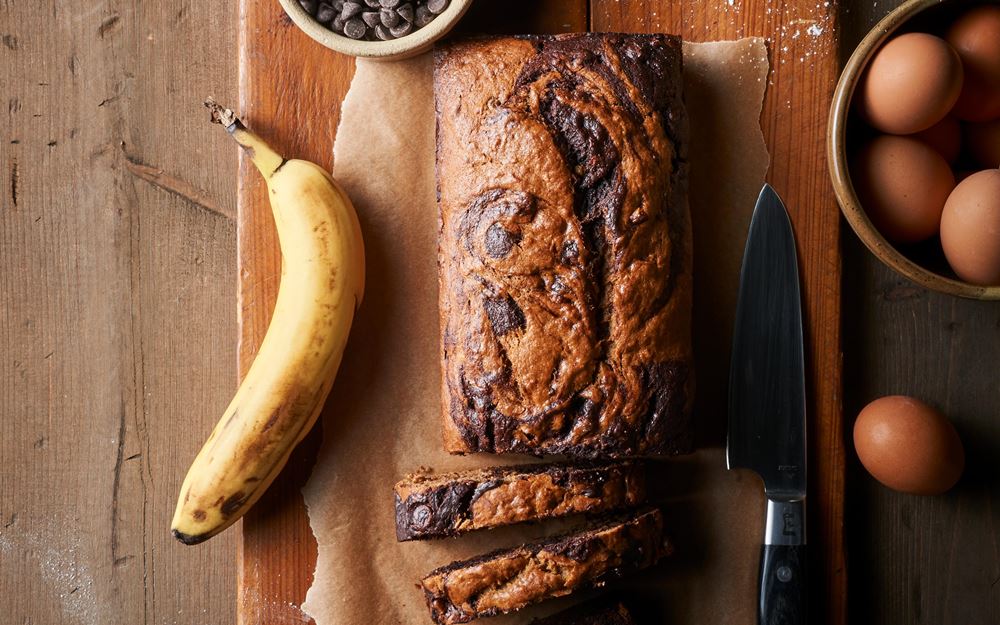 Preparation Method
1. Preheat oven to 350°F Bake Mode with a rack set at position "3."
2. Spray a 9-by-5 inch loaf pan with nonstick cooking spray.
3. In a medium bowl, mash the bananas until smooth. Add the melted butter and stir to combine.
4. Add the brown sugar, egg, vanilla, baking soda, and salt and whisk until well combined.
5. Add 1 cup of the flour, stirring gently until the flour just disappears.
6. Pour half of the batter into a second bowl.
7. In one bowl of batter, add the remaining ¼ cup of flour and cinnamon. Stir to combine. In the other bowl of batter, add the cocoa powder and chocolate chips. Stir to combine.
8. Alternating between the two bowls, add spoonfuls of the batters into the 9-by-5 inch pan.
9. Using a butter knife, make a few figure-eights through the combined batters to marble them.
10. Place the loaf pan into the oven and bake 50–55 minutes, until a toothpick inserted into the center of the loaf comes out clean. Allow the pan to cool for 10 minutes. After cooling, run a knife around the edge of the pan and invert the loaf onto a cooling rack. Allow to cool before serving.
Products Used in this Recipe