Classic Vinaigrette
This is the vinaigrette you'll find on every French family's table. It's lovely with leafy salads, steamed asparagus, or roasted vegetables.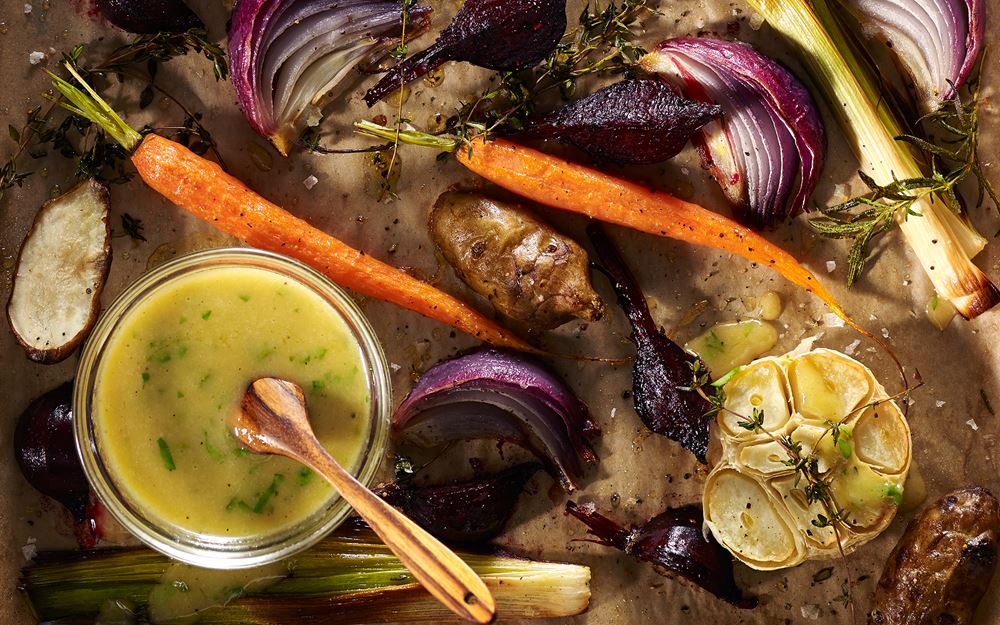 Preparation Method
Place the vinegar (and/or lemon juice), mustard, shallot, garlic, salt, and pepper in the blender. Select MANUAL/SPEED 5. Remove the filler cap and use the emulsion cup to slowly drizzle in the oil while the blender is running and blend until the vinaigrette is creamy and thick. (Refrigerate in an airtight container for up to 1 week. Shake—or blend—to emulsify before using.)
Variation: Sesame Vinaigrette
Add 3 tablespoons soy sauce. Substi­tute 2 tablespoons toasted sesame oil for 2 tablespoons of the olive oil. A few nice (but optional) additions include 1 tablespoon roughly chopped peeled fresh ginger, a pinch of red pepper flakes, a squeeze of Asian-style hot sauce (such as sambal oelek or Sriracha), a splash of mirin, or a squeeze of honey.
Variation: Lemon-Pepper Vinaigrette
Substitute the finely grated zest of 1 lemon and 1⁄2 cup fresh lemon juice (from 3 or 4 lemons) for the vinegar. Add 1 tablespoon honey and increase the freshly ground black pepper to 1 tablespoon.
Variation: Raspberry-Walnut Vinaigrette
Use balsamic vinegar or raspberry vinegar; don't use any lemon juice. Use canola oil, or 6 tablespoons walnut oil and 1 cup plus 2 tablespoons canola; don't use any olive oil. Reduce the Dijon mustard to 1 tablespoon or use 1 teaspoon dried mustard powder. Add 1 cup fresh raspberries to the blender. Select the PUREE setting. Once the cycle finishes, select MANUAL/SPEED 3. Add 1⁄2 cup toasted walnuts and PULSE to blend. For more sweet­ness, pulse in 1 to 2 tablespoons honey.
Tip
Like salt, acid is a key component of great flavor. If a dish tastes flat and doesn't need more salt, a little lemon juice or a hit of vinegar will usually brighten it up. This is true for vinaigrettes as well as soups, pan sauces, and pasta sauces.