Clementine Olive Oil Cake
The clementine-rosemary syrup and olive oil give a savory nod to an otherwise sweet dessert. For an elegantly rustic final presentation, decorate the cake with chopped pistachios, candied clementines, and rosemary sprigs.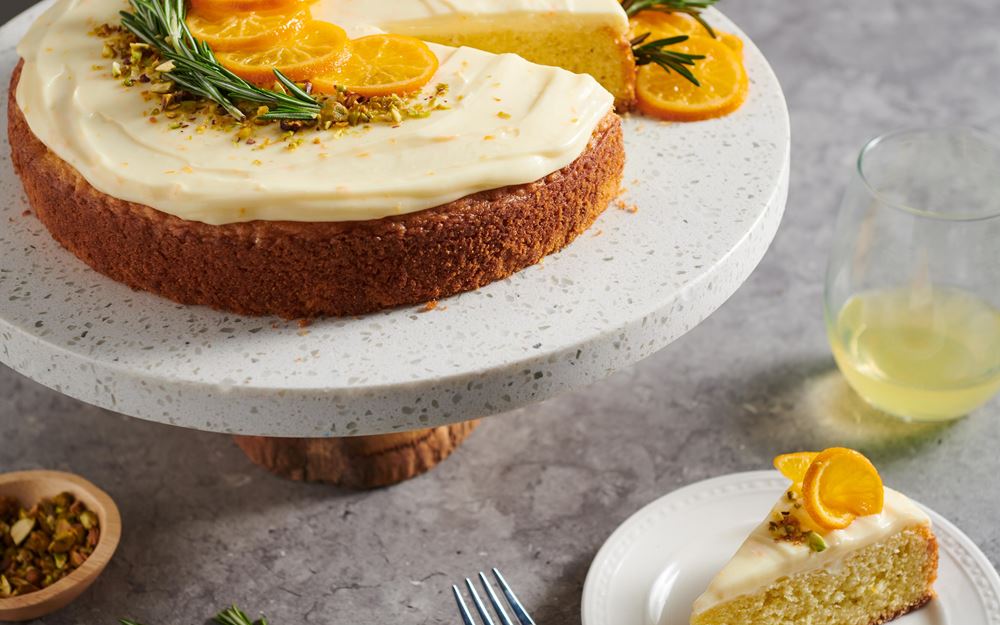 Preparation Method
To Prepare Candied Clementines and Syrup
In a saucepan, bring water, sugar, honey, and rosemary to a boil, stirring until sugar dissolves. Add clementine slices and reduce heat to a simmer, turning slices until tender and syrup is reduced, about 40 minutes.
Strain clementine slices, reserving syrup to use on cake.
On a baking sheet lined with parchment paper, arrange slices in a single layer. Cool completely before using to decorate.
To Prepare Cake
With a rack set at position "3," select Gourmet Mode and choose Baked Goods, Cake, Sheet, and then One Rack.
Grease a 10-inch cake pan with a knob of butter and line the bottom with parchment paper.
Sift together flours, baking powder, and salt. In another bowl, whisk melted butter with olive oil.
Place eggs, sugar, and clementine zest in the bowl of a stand mixer. Mix on high until pale and thickened, about 3 minutes. Lower mixer speed and alternate adding the dry and wet ingredients, starting and ending with the dry.
Once mixed, pour batter into prepared cake pan. Bake for 40–45 minutes, until golden brown.
Once baked, poke holes all over the top of the cake with a skewer.
Pour 1 cup of the reserved clementine syrup on top of cake. Let cool to room temperature before transferring to a cake stand.
To Prepare Frosting
Place mascarpone, confectioner's sugar, heavy whipping cream, and clementine zest in a food processor and pulse until smooth.
Dollop frosting in the center of the cake, spreading evenly toward the edges. Sprinkle with chopped pistachios. Top with candied clementine slices and rosemary sprigs.
Products Used in this Recipe