Coq Au Vin
Braising is a cooking process utilizing both dry and moist cooking methods. Also, by searing the chicken and sautéing the vegetables all in the same pan, the dish builds depth of flavor.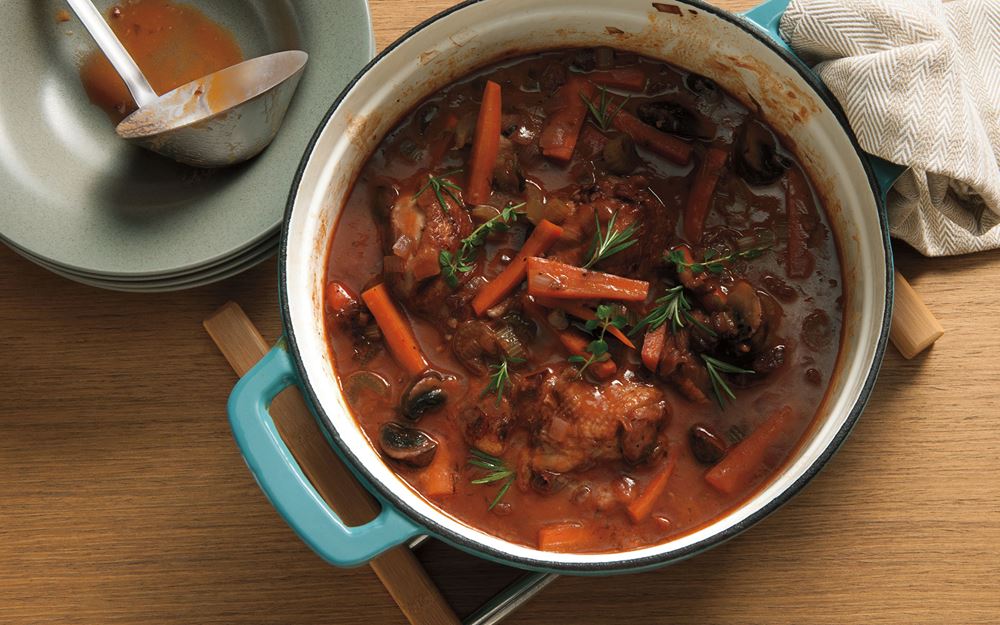 Before You Start
It is important to follow the steps to sear the chicken pieces on the stove top first to help produce a crispy skin on the chicken before it is braised in the liquid.
Preparation Method
1. Cut the chicken into 6 pieces: 2 legs, 2 thighs, and 2 breasts.
2. Cut the breasts in half to make 8 pieces in all.
3. Pat the chicken pieces dry with paper towel and season both sides with 1 teaspoon kosher salt and ½ teaspoon black pepper. In an 8 quart (or similar sized) roasting pan, cook bacon over medium heat until crisp, 8–10 minutes.
4. Remove the bacon pieces and reserve for later, leaving the rendered fat in the pan.
5. Heat the pan with the bacon fat over medium high heat and sear both sides of the chicken pieces in two batches, increasing the heat to high as needed to brown and crisp the skin, about 5 minutes for each side.
6. Remove the chicken from the pan and place the chicken on a platter to reserve for later use, skin side up.
7. Preheat the oven to 250°F on Roast Mode with a rack set on position 3.
8. Add the mushrooms to the same roasting pan and cook over medium heat until the mushrooms are lightly browned.
9. Turn heat down to medium low, add in the onions and garlic and cook until soft and translucent.
10. Add the celery and continue to cook until the celery is soft.
11. Add in the carrots and cook until the carrots are fork tender. If needed, add in ¼ cup of the chicken stock and continue to cook until the vegetables are tender.
12. Deglaze the pan of vegetables by adding the brandy, red wine and then chicken stock. This will help to release all of the flavor built up on the bottom of the pan.
13. Add the chicken back to the pan, arranging in one layer over the vegetables and cooking liquid.
14. Place a lid on the pan and place in the oven. Braise covered, for 30 minutes.
15. Check to make sure the internal temperature of the chicken reaches 165°F.
16. If needed, continue to cook until the temperature is reached.
17. Mix together the butter and flour with your fingers to a crumbly consistency.
18. After 30 minutes, remove the pan from the oven and return it to the stove top.
19. Bring the pan to a simmer.
20. In a small bowl combine 1 cup of the braising liquid and the butter/ flour mixture.
21. Whisk together until smooth.
22. Pour the contents back into the roasting pan and gently stir.
23. Simmer for another 10–15 minutes until the mixture thickens and serve.