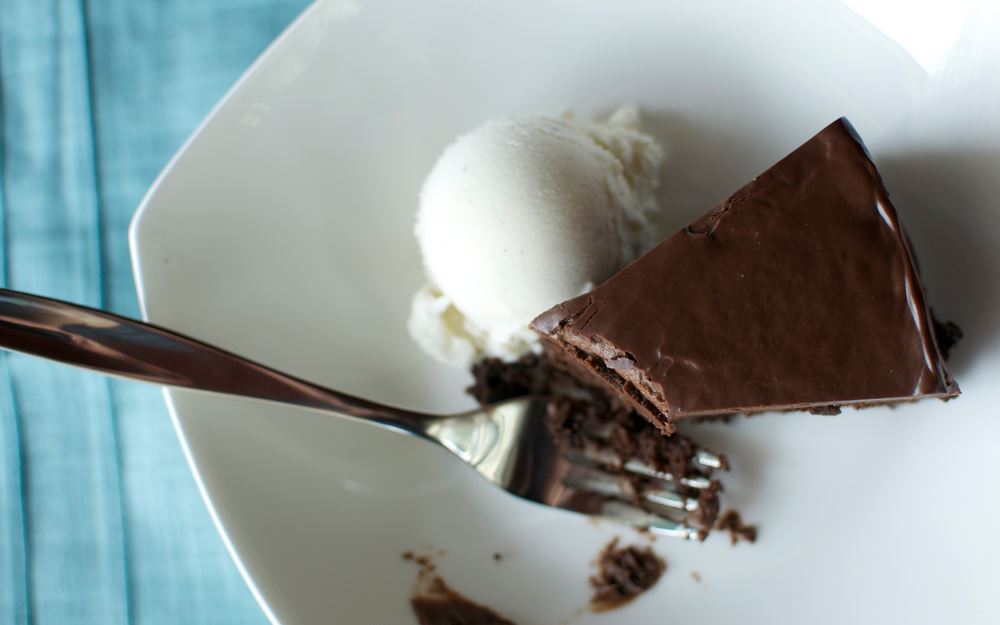 Preparation Method
Preheat Wolf wall oven on CONVECTION at 325°F. Very liberally grease 9-inch springform pan. In 4-quart sauce pan over low heat on Wolf electric cooktop, melt butter. Add liqueur and vanilla. Stir in chocolate and continue to stir until completely melted.
In a mixing bowl of the mixer fitted with the whip attachment, mix eggs with sugar on speed 2 until combined. Add cocoa and flour. Blend in a third of melted chocolate mixture into the mixer bowl. Continue to mix on speed 2 for about 10 seconds. Add remaining chocolate to egg mixture and mix until combined. Pour into prepared pan. Bake 40 to 45 minutes or until cake levels out in the pan. Remove sides while still slightly warm. Cover and chill in Sub-Zero refrigerator.

To Make the Ganache:
Heat cream in 1-quart saucepan over low heat until hot, but not boiling. Remove from heat. Stir in chocolate until melted. Let stand about 5 minutes. (It will thicken as it stands.) Spread ganache onto top and sides of chilled cake. Refrigerate cake about 1 hour or until chocolate is set. Store covered in refrigerator.

Serve with Peppermint Crème Anglaise.