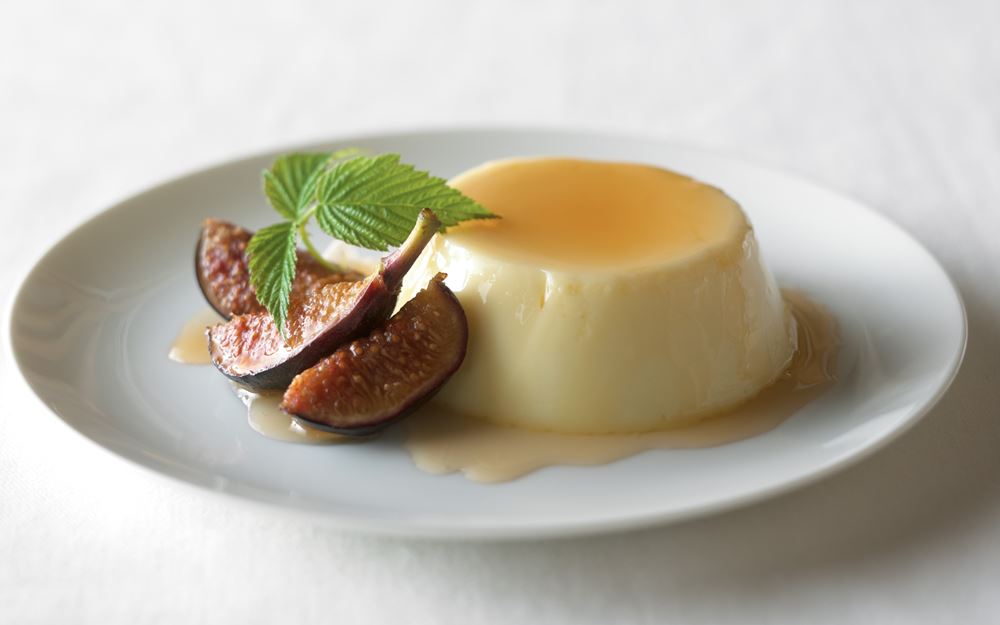 Preparation Method
This recipe was developed exclusively for the Wolf Convection Steam Oven.

For the Sauce:
In 1 1/2-quart saucepan on Wolf cooktop over medium heat, place 1/4 cup sugar. Continue to heat 3 minutes or until sugar turns light brown. Gradually pour in orange juice into pan and allow to reduce in half. Remove and pour evenly into four 6-ounce ramekin dishes. Set aside.

In 2-quart saucepan over medium heat, place cream, remaining sugar and vanilla bean. Bring to a simmer, stirring constantly. Whisk eggs in 2-quart bowl. Slowly pour cream into eggs, a little at a time, beating after each addition. Pour mixture through a fine strainer evenly into the dishes over the orange sauce. Place dishes on perforated pan. Carefully slide on rack position 1. Close oven door. Set oven to Recipes #R9. Push OK. After the oven chimes to indicate baking time is over, remove from oven. Allow to cool completely. Chill in Sub-Zero refrigerator for at least 2 hours. To serve, run a knife around the edge of each dish. Turn flans upside down onto each plate and pour any remaining sauce from dish over the top of flan.