Flourless Chocolate Cake with Mocha Buttercream Icing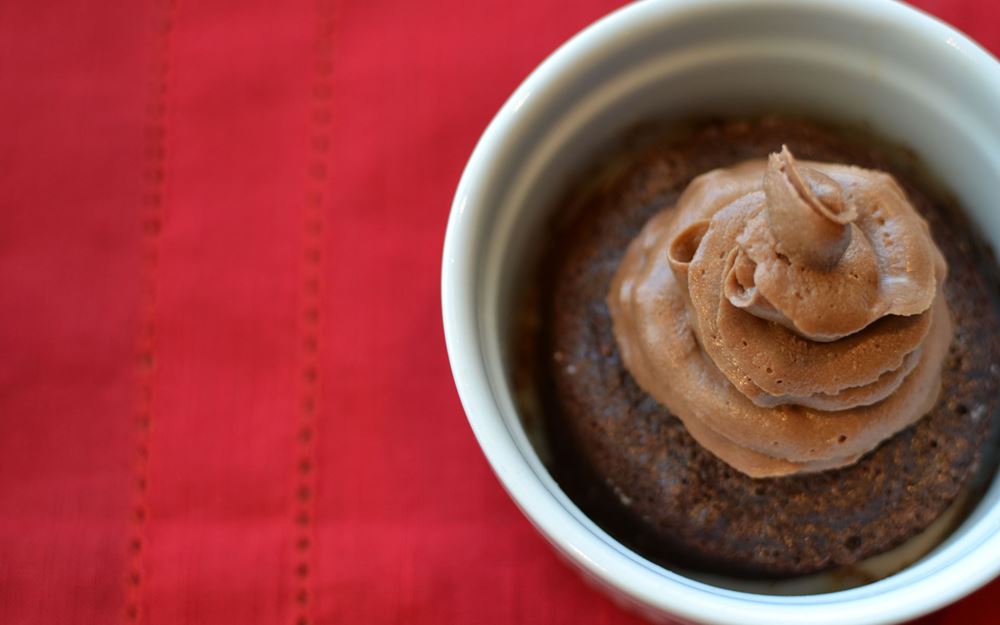 Preparation Method
To Make Cake:
Preheat Wolf Electric Wall Oven in BAKE at 350° F. Liberally grease 8 4-ounce ramekins. In 1-quart saucepan on either a Wolf Electric Cooktop on MELT, or on Wolf Gas Cooktop on the lowest simmer setting, place butter and both chocolates. Heat until mixture is melted. Set aside to cool.

In a mixing bowl, whip egg yolks with half of the sugar and vanilla about 2 minutes or until creamy. In another mixing bowl, beat egg whites with the remaining sugar to form soft peaks. Fold the yolk mixture into the chocolate until just combined. Gently fold in egg white mixture until just combined. Divide evenly into the ramekins and place on a rimmed baking sheet. Place in the center of the oven for 14 to 16 minutes or until set. Remove from oven and cool to room temperature.

To Make Icing:
In custard cup, combine espresso powder and water. Set aside. In the mixing bowl, beat butter until creamy. Add 1 cup powdered sugar and beat until smooth. Scrape down the bowl. Add remaining 2 cups powdered sugar, cocoa, vanilla, and espresso mixture. Beat until completely smooth and creamy. Add more hot water if necessary to bring the icing to spreading consistency. Decorate each of the cakes with either a pastry bag fitted with a decorating tip or simply place a dollop of buttercream on top of each cake.