Julienned Zucchini Salad
This salad is a spectacular way to showcase the summer abundance of zucchini. It is also a lesson in the power of salt to transform a vegetable. Zucchini, like cucumbers and eggplant, is a very wet vegetable. Since raw zucchini can weep moisture, throwing off the balance of the dressing, it's usually best to salt it in advance.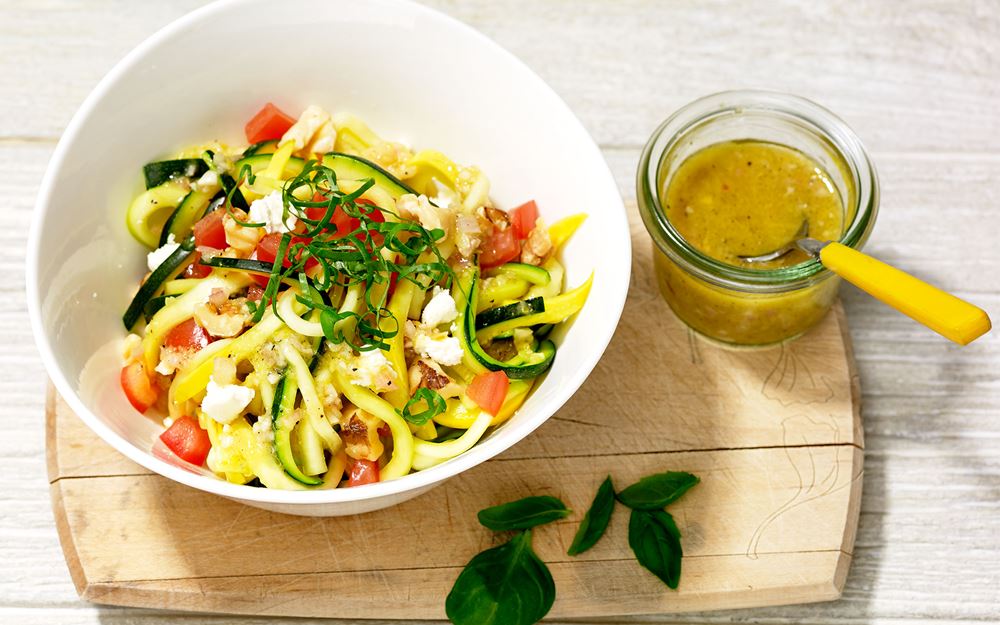 Preparation Method
Heat a large dry skillet over medium-high heat, add the walnuts, and toast them, shaking the pan often, until they are lightly browned and fragrant. Transfer the nuts to a small plate to cool.
Place the zucchini in a colander, sprinkle with 1 teaspoon salt, and toss to combine. Set the colander over the sink to let the zucchini drain for 30 minutes.
Put the zucchini under cold running water to wash off the excess salt, then turn it out onto a kitchen towel and pat it dry.
Whisk together the lemon zest and juice, shallot, mustard, and garlic in a small bowl. Whisking constantly, slowly drizzle in the oil and whisk until the vinaigrette is thick and emulsified. Season to taste with salt and pepper.
Place the zucchini in a large bowl and toss with vinaigrette. Sprinkle the toasted nuts and some Parmigiano-Reggiano cheese over the top and serve.
Variation: Zucchini, Tomato, and Basil Salad
Add 1 cup diced fresh tomatoes and ¼ cup fresh basil chiffonade and toss with the zucchini and vinaigrette. Replace the Parmigiano-Reggiano with ⅓ cup crumbled feta cheese.
Tip
A vegetable peeler can be used to shave thin ribbons of zucchini for the salad.