Napa Cabbage Salad
This fresh and vibrant cabbage salad was loosely inspired by the Vietnamese banh mi sandwich, which always includes crunchy, tangy vegetables, some heat from a chile, and the pop of fresh herbs.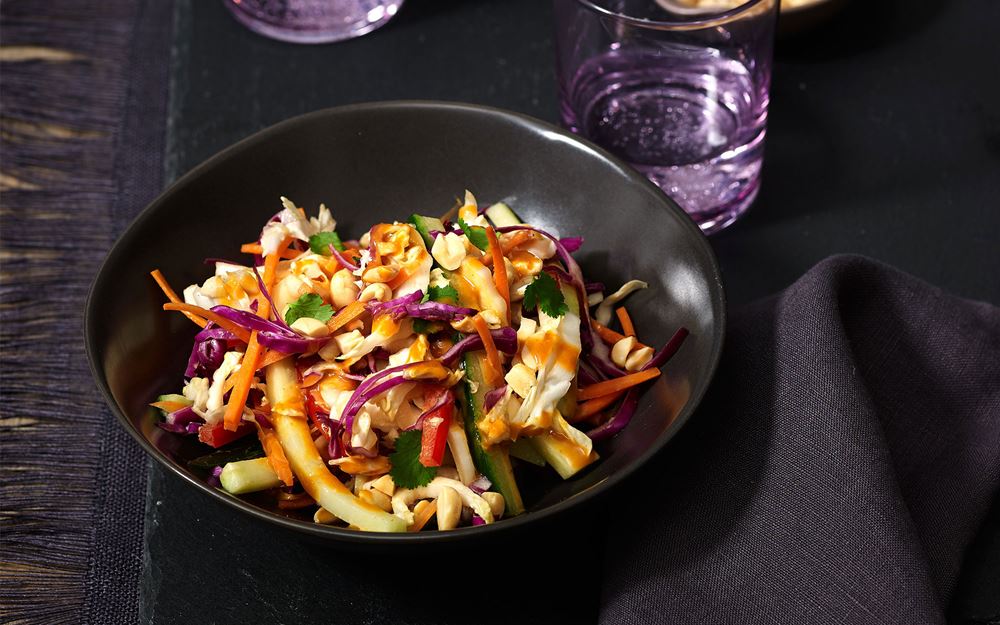 Preparation Method
Make the Dressing:
Using a whisk or a blender, combine the tahini, rice vinegar, soy sauce, honey, ginger, chile paste, oil, and miso paste. Drizzle up to ¼ cup water into the dressing and whisk or blend until it reaches your desired consistency.

Make the Slaw:
In a large salad bowl, toss together the cabbages, carrots, cucumber, bell pepper, and cilantro. Drizzle the dressing over the top and toss to combine, then sprinkle the peanuts over the top and serve.

Variation: Chicken Sandwich
Follow the recipe for making the dressing, but add extra tahini—or use less water—for a more spreadable consistency. Prepare the salad ingredients and toss together in a bowl. Slice a baguette in half lengthwise and toast until warm. Spread the dressing on the cut sides of the baguette. Place a generous amount of roasted or grilled chicken on the bottom half of the baguette and top with the undressed salad. Cover, slice across into quarters, and serve.