Pan-Roasted Steak with Gorgonzola-Shallot Butter
A combination of pan searing and pan roasting allows you to cook a steak with a beautifully browned crust and a pink, juicy interior. For a more formal restaurant-style presentation (or for storage), place the butter on a sheet of plastic wrap and roll into a cylinder, twisting the ends. Refrigerate or freeze for at least 30 minutes, then slice into rounds.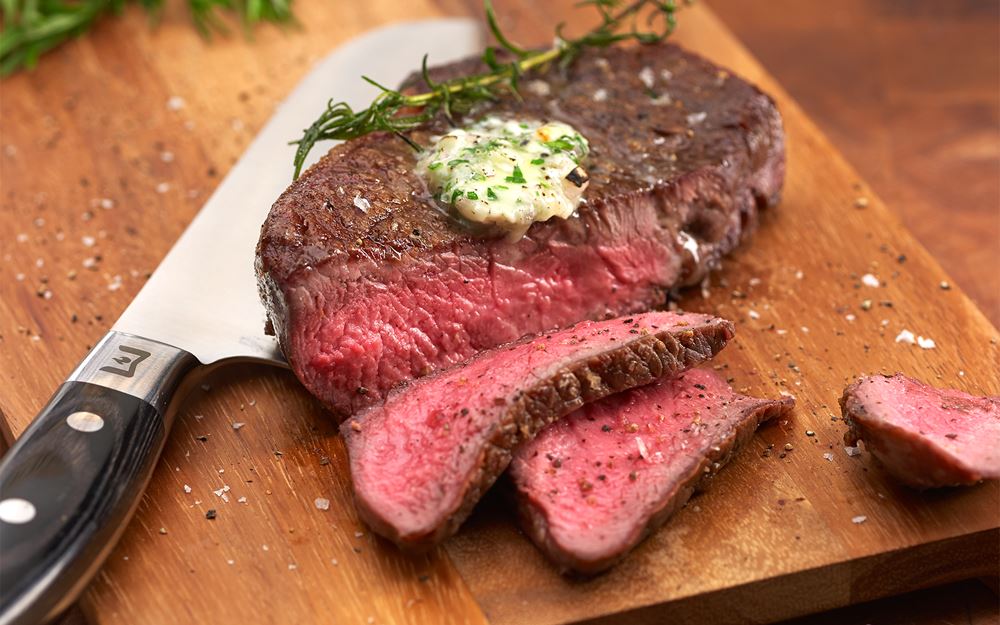 Preparation Method
Make the butter:
Place the butter in a bowl and beat with a fork until it starts to become light and airy. Add the cheese, shallot, garlic, and parsley. Season with salt and pepper to taste and mix to combine. Cover the bowl and refrigerate for at least 30 minutes.

Make the steak:
Pat the steaks dry with paper towels and liberally season both sides with salt and pepper. Preheat the oven to 400°F. Heat the oil in a heavy-bottomed oven-safe skillet or sauté pan over medium heat until it shimmers and just barely begins to smoke. Add the steaks, working in batches if necessary. Sear the steaks without moving them until a golden-brown crust forms, 1 to 1½ 2 minutes. Flip the steaks and sear on the other side for 1 minute, then transfer the pan to the oven.

After 5 minutes, insert an instant-read thermometer into the steaks to check for doneness. Continue cooking until the desired doneness: 120°F for rare, between 120°F and 125°F for medium-rare, and 130°F to 135°F for medium. Use a potholder to hold the pan handle. Remove the steaks from the oven and transfer to a large platter or cutting board with a juice groove. Top each steak with some Gorgonzola butter and let rest for 5 minutes. Sprinkle with herbs and serve.