Pork loin with Parmesan polenta and brown butter green beans
Serving four people, this hearty meal is perfect for a cool fall evening. The green beans can be blanched a day ahead of time and stored, covered, in the refrigerator (to ease the preparation of the meal). There are many options of pre-marinated pork loin fillets available at your local supermarket, or butcher shop, and because this recipe will work equally well with any marinade, you can choose the flavor your family will most enjoy.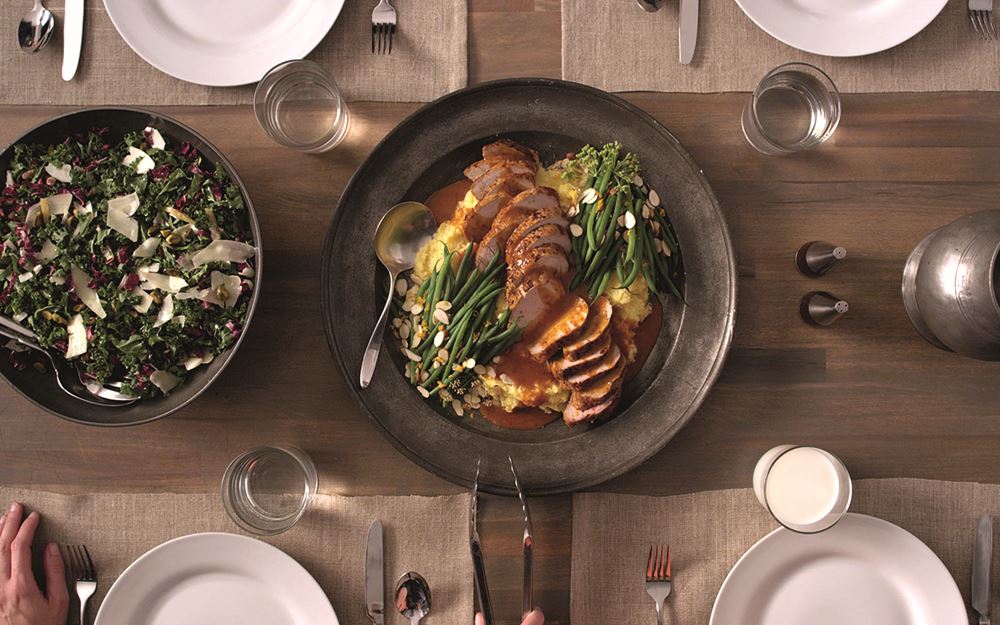 Preparation Method
In large stockpot over high heat, bring 6 quarts of salted water to a rolling boil. Add beans to the water and boil for 2 minutes. After 2 minutes, immediately remove the beans from the pot and chill in ice water. Drain well. Set aside on paper towels to dry.
Season the pork loin with kosher salt and freshly ground black pepper and place in a medium sized roasting pan. Insert an oven safe temperature probe into the center of the pork loin. Preheat the oven to a temperature of 400°F, on the convection roast mode (if available, otherwise use the convection mode), with the oven rack in the center of the oven. After preheat is complete, place the pork loin into the oven. Set the temperature probe alert to 155°F.
While the pork is roasting, in a medium size pot, combine the water, milk, shallot, garlic, bay leaf, salt and pepper. Bring to a gently rolling boil. Whisk in the polenta. Reduce the heat to low and cook for 30 minutes, or until the polenta thickens, stirring often. Remove the pan from the heat and gently fold in the butter and Parmesan cheese. Season to taste with additional salt and freshly ground black pepper.
Place a large sauté pan over medium high heat. Add the butter and stir until the butter becomes light brown in color and has a nutty aroma. Add the green beans and turn frequently with tongs until the beans are heated through. Season to taste with salt and freshly ground black pepper.
After the pork reaches an internal temperature of 155°F, remove the pork from the oven and allow to rest 5 minutes before slicing. Serve alongside Parmesan polenta and brown butter green beans.