Profiteroles with White Chocolate Ganache
Made with authentic choux pastry, these little cream puffs will transport you to a French patisserie. No passport required.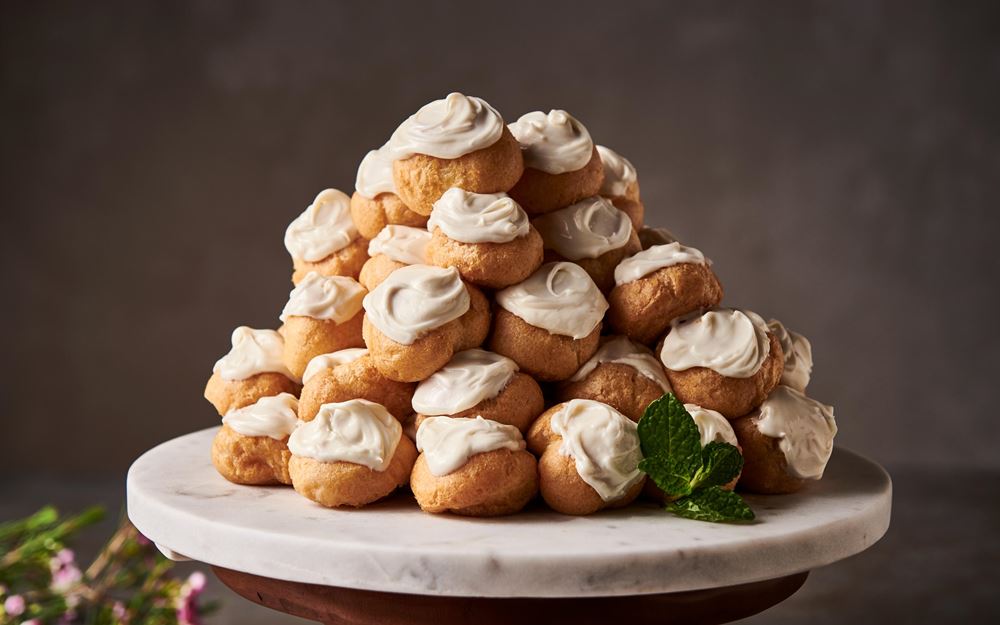 Before You Start
You can make the pastry cream up to two days before filling the choux buns.
Preparation Method
To Make Pastry Cream
In a large bowl, beat egg yolks and sugar. Whisk in flour. Set aside.
In a medium-sized saucepan, combine milk, heavy cream, and vanilla extract. Bring to a simmer then remove from heat.
Slowly pour the warm milk mixture into the egg mixture—not the other way around or the eggs will curdle—whisking until the custard is smooth.
In a clean saucepan over medium heat, add custard and whisk gently until thickened. Continue whisking for another 1–2 minutes until the mixture releases a few bubbles.
Pour the custard into a bowl, cover with cling wrap, and set aside to cool.
To Make Choux Buns
Preheat oven to 400°F in Bake Mode with a rack set at position "3."
In a large saucepan over medium-high heat, combine water, butter, and salt; heat until the butter melts and the water boils. Remove from heat.
Add flour and beat with a wooden spoon until a dough forms, pulling away from the sides of the pan.
Add dough to the bowl of a stand mixer fitted with a flat paddle attachment. Beat for 10 seconds to knock out the air and to cool slightly. Add one egg at a time and beat until the mixture is thick and smooth.
Add batter to a piping bag fit with a 1-inch round piping tip. On a parchment-lined baking sheet, pipe 2-inch rounds about 2 inches apart. Wet the tip of your finger and smooth out the tops of each round to remove any points.
Bake for 20–25 minutes until golden brown and sound hollow when tapped on the bottom.
Cool on a rack, piercing the underside of each choux bun with a pin or cake skewer to release excess steam and prevent sogginess.
To Fill The Buns
Fill just before serving.
Add pastry cream to a piping bag fit with a small round nozzle. Insert the nozzle into an opening in the choux bun; if there is none, pierce the bun with the tip of a small knife or skewer. Gently squeeze the cream into the choux bun, being careful not to overfill them.
To Prepare Ganache
Place chopped chocolate in a medium bowl.
In a small saucepan over medium-high heat, bring the cream to a boil, and then pour it over the chocolate. Let it sit for 30 seconds. Using a whisk or heatproof spatula, gently stir the chocolate and cream together.
When the ganache is smooth, add the butter stirring until incorporated.
While warm, dip each cooled, filled bun into the ganache. Serve immediately.
Products Used in this Recipe