Sesame Ginger Salmon
Serving four people, this baked salmon recipe with an Asian influence, is quick and easy to make. The bold flavors of ginger and sesame make it a delicious way to include healthy vitamin A and omega-3 fatty acid rich salmon in your diet.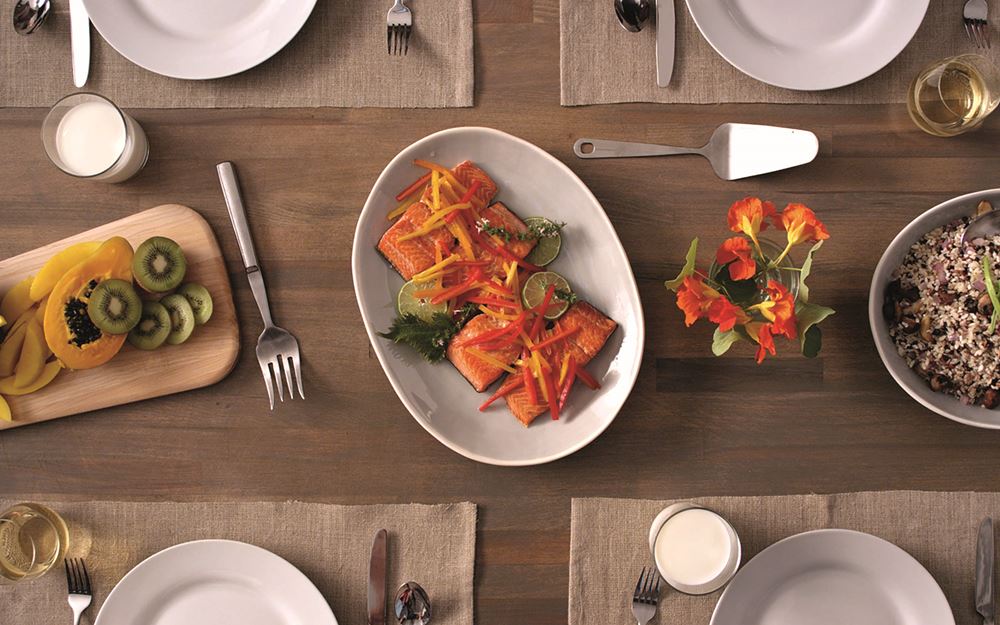 Preparation Method
Marinate the salmon by mixing the marinade ingredients in a small bowl. Stir until the brown sugar dissolves and the ingredients are well combined. Place the salmon fillets in a 1-gallon zip top bag. Pour the marinade over the salmon. Squeeze as much air out of the bag as possible. Seal the bag and gently turn the bag over a few times to mix thoroughly. Place the bag in a leak proof container and let stand in the refrigerator for at least one hour or up to 4 hours.
In a 6 quart pot, place the rice, quinoa and water. Bring to a boil. Then reduce the heat to a bare simmer, cover and cook for 15 minutes. After 15 minutes, remove the pot from the heat, leave covered and let stand for 10 minutes.
Make the glaze by combining the ingredients in a small bowl and stirring to combine. Cover the bowl and set it aside.
While the rice is cooking, preheat the oven to a temperature of 375°F on the convection mode. Remove the salmon from refrigerator. Drain off any excess marinade. Place the salmon fillets on a foil lined jellyroll pan. After preheat is reached, place the salmon into the center of the oven and set a timer for 15 minutes. Check the salmon for desired doneness. An additional 5 to 7 minutes may be needed depending on the thickness of the fillets. After the salmon is done remove the pan from the oven and place it on a heatproof surface. Brush the glaze onto the salmon. Fluff the rice and quinoa gently with a fork, season the rice with soy sauce or other seasoning if desired and serve alongside the salmon.