Toasted Sesame Hummus
This hummus recipe is special because it is made with freshly ground tahini, the Middle Eastern sesame paste nearly essential to hummus. The power of the blender blades grinds the sesame seeds into a silky purée, lending a wonderfully rich elegance to the chickpeas, lemon, and garlic.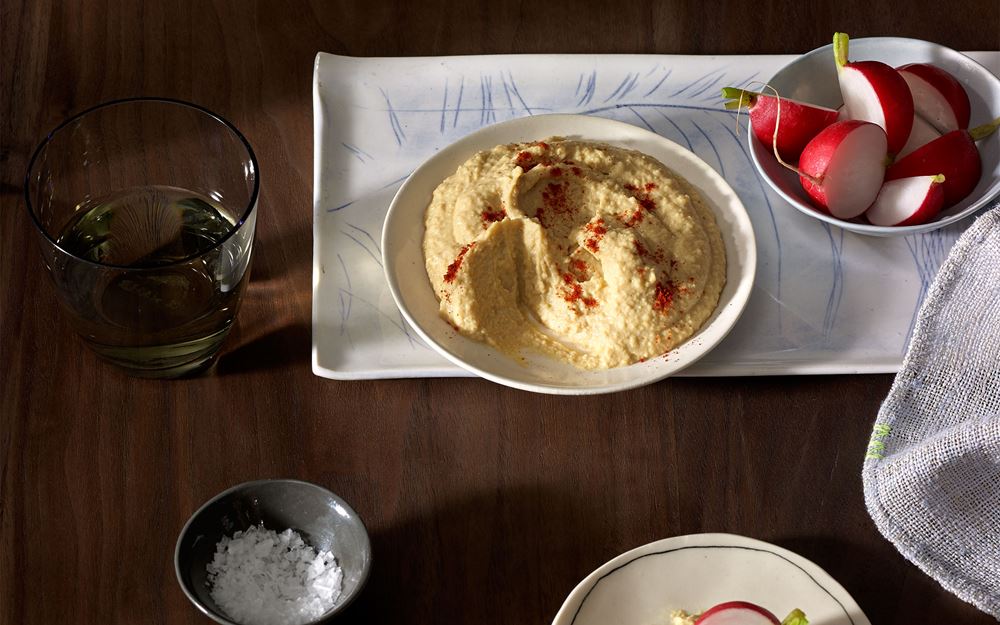 Preparation Method
Heat a small skillet over medium heat, add the sesame seeds, and toast them, shaking the pan often, until they are brown and fragrant, 3 to 5 minutes. Transfer the sesame seeds to a plate to cool.
Place the sesame seeds in the blender, followed by the olive oil, sesame oil, chickpeas, garlic, lemon juice, cumin, salt, and ½ cup water (or chickpea cooking liquid). Select MANUAL/SPEED 3 and pulse to roughly combine.
Select the PUREE setting, using the tamper as needed to stir the mixture. Once the cycle finishes, adjust the consistency of the hummus, if you like, by adding up to ½ cup more water to thin it. Taste and adjust the seasoning with salt and lemon juice as needed. Transfer to a serving bowl, sprinkle paprika on top, and serve with pita, crackers, or vegetables.
Variation: Black Bean Hummus
Reduce the sesame seeds to ⅓ cup and reduce the toasted sesame oil to 1 teaspoon. Substitute 2 cups cooked or 1 (15-ounce) can black beans (with their liquid) for 2 cups or 1 (15-ounce) can chickpeas. Substitute lime juice for the lemon juice, decrease the cumin to 1½ teaspoons, and add 1½ teaspoons chili powder. Sprinkle with chopped fresh cilantro and serve.
Variation: Tomato-Basil Hummus
Add ½ cup chopped sun-dried tomatoes, 2 tablespoons chopped fresh basil, and ¼ cup grated Parmigiano-Reggiano cheese to the blender with the other ingredients.