24" E Series Transitional Built-In Single Oven
SO24TE/S/TH
WHO SAYS YOU DON'T HAVE ROOM FOR A REAL OVEN?
You may have a small kitchen, but big culinary dreams. Say hello to the new Wolf 24" E series wall oven. It's slim enough to fit into almost any kitchen design, yet delivers the precise control you need to achieve delicious results with any dish. Pair it with a 24" induction cooktop or convection steam oven, a 15" module and narrower Sub-Zero refrigerators and freezers, and you'll have a compact kitchen even a chef would admire.
The single convection fan circulates heat evenly and consistently, so everything from roast chicken to chocolate chip cookies comes out crisp and beautifully browned. Eleven cooking modes – including oft-requested ones like Convection and Keep Warm – create the perfect environment for any dish. Gourmet mode even senses the shape and size of commonly prepared foods for easy, hands off meal preparation. And the SO24TE delivers extra convenience with a self-clean feature and Quick Preheat mode that's up to 50% faster than a normal preheat mode. less
Product Features
Rigorously tested to ensure dependability

Each and every Wolf appliance is rigorously stress-tested to perform for over twenty years of daily use and is backed by the strongest warranty in the industry.

Is it done yet?

No need to open the oven to check, and double check, the level of doneness. The temperature probe alerts you when your dish has reached the desired temperature. The ultimate convenience for busy gourmets.

11 COOKING MODES FOR PREDICTABLY DELICIOUS RESULTS

Precisely control heat and airflow, providing just the right cooking environment for everything from Cornish hens to cherry pie to butternut squash. Eleven modes are Bake, Bake Humid, Slow Cook, Convection, Convection Humid, Convection Bake, Broil, Convection Broil, Gourmet, Slow Roast and Keep Warm.

Convenient features

Wonderfully easy to use, with self clean, delayed start, timed cook and more.

QUICKER PREHEAT

Quick Preheat mode heats up as much as 50% faster than a normal preheat mode.

MULTIPLE DESIGN OPTIONS

Transitional design coordinates with other Sub-Zero and Wolf products, optional pro handle accessory, and the ability to install flush to surrounding cabinetry allows the 24" oven to fit into multiple kitchen designs.
Exceptional customer support

Whether you're shopping for appliances or have questions about those you already own, the Sub-Zero, Wolf, and Cove Customer Care team has a reputation for service that's as exceptional as its products.

Obstacle-free cooking environment

A hidden bake element allows for obstacle-free cleaning of the oven's floor, while a recessed broil element provides more room for large dishes.

BLACK PORCELAIN INTERIOR

Contemporary aesthetics enhance the oven's interior, creating a bold cooking backdrop.

CONVECTION HEAT FOR MORE CONSISTENT COOKING

Single convection fan combines with three heating elements to circulate heat evenly and consistently throughout the interior cavity, eliminating hot and cool spots, to help ensure all dishes are cooked evenly.

Adjustable oven rack for cooking convenience

The Wolf 24" oven has an adjustable oven rack, plus one versatile porcelain-coated pan.



DUAL HALOGEN LIGHTS

Create a bright interior that allows you to monitor the progress of your meals more easily.
Specifications and Downloads
Roll over image to zoom. Click image for expanded view.
Interior images are intended for interior reference only.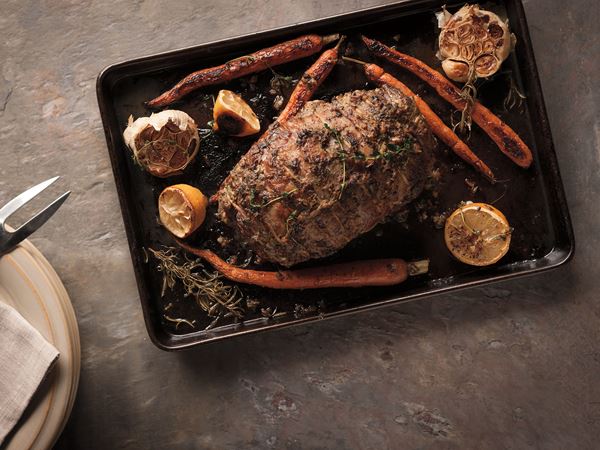 Modes to master any dish
All our E series ovens offer cooking modes that make meal preparation virtually foolproof, by providing exactly the right combination of heat and airflow for any dish. But our new 24" oven has several useful modes you won't find on our other models.
There are two "humid" modes – Bake Humid and Convection Humid – that keep moisture from escaping, and make sure your muffins, lasagna or casseroles come out just right. There are two "slow" modes – Slow Cook and Slow Roast – that cook that beef bourguignon or braised pot roast to perfection without the need for constant attention. There's a Keep Warm mode that's perfect for late arrivals at dinner. And there's even a Gourmet mode that delivers hands-off preparation of 10 different types of commonly prepared foods – won't that make mealtime easier?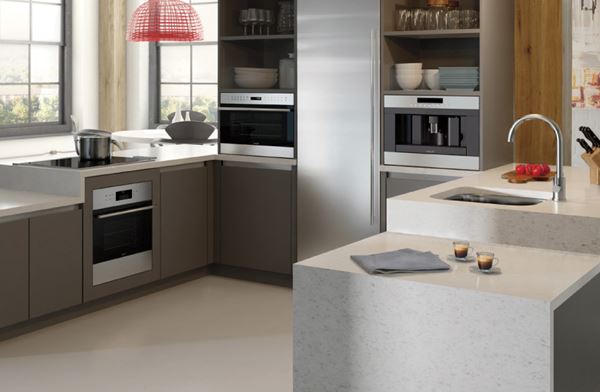 Smaller products for smaller spaces
Even though we're known for kitchens on a grand scale, we've got slim, space-saving appliances for a great galley or condo kitchen too – or that lakeside cottage of your dreams.
Start with our new 24" E series built-in oven, with its even heating convection system and 11 convenient cooking modes. Then team it up with any of the following compact culinary companions:
24" convection steam oven
24" induction cooktop
24" coffee system
24" drop-down door microwave
Add a Sub-Zero freezer column in sizes as narrow as 18", or a refrigerator as narrow as 24", and you'll have a suite of slim appliances that will deliver decades of big performance.
Explore More Products
More 24" appliances for smaller spaces, smaller places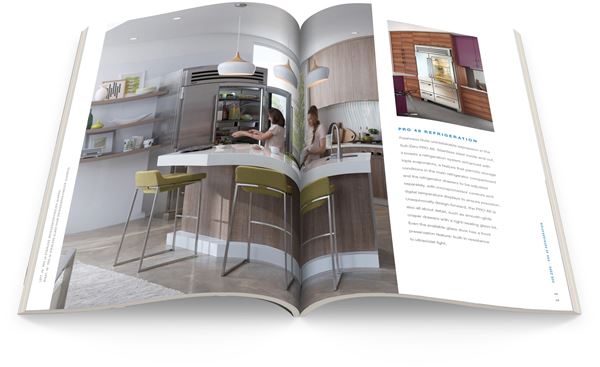 Request a brochure
Dozens of pages of inspiring photos, product features and more in print and online. Discover a world of beautiful, high-performance and top-quality products for your dream kitchen with this free guide from Sub-Zero, Wolf, and Cove.
Receive a printed brochure
Award-Winning Design Professionals
Partnering with a design professional to create your new kitchen will ensure that the end result matches your vision and suits your lifestyle. See below for a listing of award-winning design professionals in your area.
Fitchburg, WI (53711) Change Location
Deep River Partners - Milwaukee

de Giulio kitchen design, inc.

KDC 2017-18
KDC 2015-16
KDC 2013-14
KDC 2010-12

Snaidero - Chicago

KDC 2013-14
Located at specific dealers near you, the Living Kitchen features Sub-Zero, Wolf, and Cove appliances in real kitchen settings and more resources for selecting the right products for your dream kitchen. Look inside a Living Kitchen.