M Series Built-In Ovens

The high-performance heirs to our pioneering L series, M series built-in ovens introduce advanced Dual VertiFlow™ convection for the most consistent cooking of any oven, and 10 cooking modes that control heat and airflow so every dish comes out exactly the way it should. Both single and double ovens come in contemporary, transitional or professional styles to fit any kitchen beautifully.
Prime rib at home? Absolutely!
Saturday night at the steakhouse. Crowded, noisy – but the prime rib is so succulent. Now you can recreate that showstopper meal at home, with a little encouragement from Wolf's Chef Coleman and the Gourmet mode of the M series oven.
The "dinner dilemma" solved!
What's for dinner? The same nagging question, night after night. Wolf's Chef Coleman comes to the rescue, with an anytime dinner solution that requires no meal planning, no recipes - and no stress.
Feed a crowd and still enjoy the party
Wolf's Chef Coleman prepares a leg of lamb, mac and cheese, roasted potatoes, vegetables and mixed berry crisp all at the same time – and with the most delicious results. Enjoy a glass of wine while dual convection takes care of dinner.
Dual Convection Gets a Powerful Upgrade
Turn on an M series oven, and the advanced Dual VertiFlow™ convection system quickly saturates the cavity with even, consistent heat. Two corner column fans with parallel vertical heating elements work in concert, providing just the right heat and airflow for any dish. No need to adjust racks or rotate pans, whether you're baking three dozen cookies or preparing lamb, new potatoes and Wisconsin mac and cheese all at the same time.
Memorable meals – food that is crispy, gooey, flaky, savory –are practically assured.

WITH FOUR STRIKING LOOKS, M SERIES OVENS FIT ANY KITCHEN DÉCOR
Whether your kitchen is traditional, modern or somewhere in between, there's an M series design that will work beautifully with your décor. Contemporary in two styles with its minimalist handleless design and color LCD touch panel, has a look sleek enough for even the most visionary kitchen. Professional is bold, confident and eminently functional, with the classic pairing of iconic Wolf red control knobs and gleaming stainless steel. And transitional, with its stainless frame and black glass, enhances almost any type of kitchen. Whichever look you choose, you'll enjoy the advanced performance that has made Wolf the choice of discriminating cooks for almost eighty years.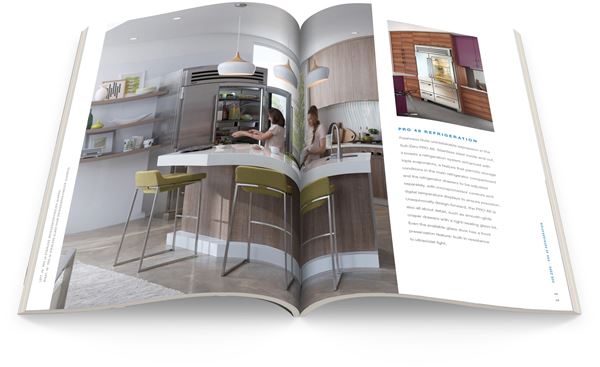 Request a brochure
Dozens of pages of inspiring photos, product features and more in print and online. Discover a world of beautiful, high-performance and top-quality products for your dream kitchen with this free guide from Sub-Zero, Wolf, and Cove.
Receive a printed brochure