It may be the ultimate "career booster"
Any college student knows the benefits of a college degree and an internship or two. Well, Sub-Zero, Wolf, et Cove offer an even more impressive career booster. It's our Co-operative (Co-op) Education Program, an 8-month program that helps you gain valuable hands-on experience in your chosen field. You'll take on more responsibility than you would in a typical internship program, better preparing you for your future career. And who knows? It may even lead to a full-time job at Sub-Zero, Wolf, et Cove!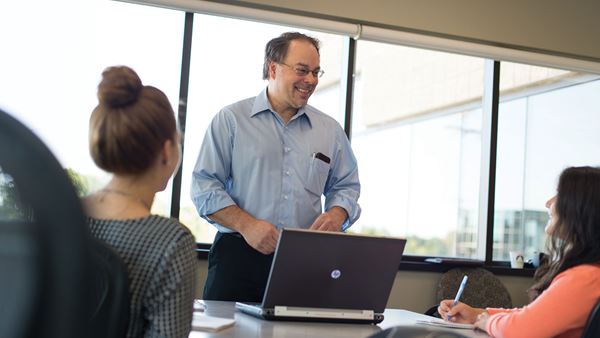 Just listen to Terry Hardesty, Staff Engineer – Advanced Product Development and manager of dozens of Sub-Zero co-ops:
"As a manager of co-ops, I get to stay in touch with the dynamics of engineering academia. My contact with the students and the universities helps me bridge the needs of the students with the expectations of future employers. We treat the co-op program very seriously as we ultimately are looking for potential long-term, full-time employees. Our expectations of the engineering co-ops are very high. We provide a variety of challenging assignments to try to evaluate their work ethic, critical thinking, judgment, productivity, personality, and academic preparation. We also have our co-ops work with several engineers so that they can learn from many individual interactions and experiences."
SEE OUR CO-OPS IN ACTION
These short videos will give you an idea of what you'll experience in our co-op program.
BUSINESS CO-OP
Marketing, production, supply chain, IT and more – listen to Sub-Zero and Wolf co-ops talk about the once-in-a-lifetime, real life experience they've gotten in some of the most exciting areas of business. "Co-op is better than an internship because they put you on projects that run longer and trust you with bigger, better things," says one co-op.
ENGINEERING CO-OP
Watch as co-ops and current employees talk about all the exciting aspects of doing real engineering work at a premier manufacturer like Sub-Zero and Wolf. You'll get a chance to do it all, from industrial design to project management to reliability testing and more, and deal with a variety of people and processes. It's a once-in-a-lifetime opportunity to grow your skills and get a fix on your future.
Sub -Zero Group, Inc. does not unlawfully discriminate against its employees or applicants because of race, color, religion, sex, pregnancy, national origin, age, marital status, disability, genetic information (GINA) or other grounds prohibited by law. These nondiscrimination principles extend to all aspects of the employer-employee relationship, to the full extent that the law requires, including recruitment, hiring, promotions, training, transfer, compensation, discipline, layoff, recall and termination.