CURRENTLY UNAVAILABLE - 15" Outdoor Ice Maker with Pump - Panel Ready
UC-15IPO
NEVER BE OUT OF ICE
When the party is in full swing, the last thing you want to do is run out for more ice. The Sub-Zero 15" Outdoor Ice Machine ensures that you'll never have to. It is a high-volume ice machine that produces up to 50 pounds of ice per day, and stores 25 pounds at a time. The ice itself, octagonal-shaped, is fresh and clean, thanks to an advanced water filtration system that removes impurities and reduces contaminants such as bacteria and viruses.
The UC-151O has a heavily insulated solid core door with door closer and gasket, to keep ice deeply chilled even in extreme heat. An easy-access control panel lets you conveniently set the delay feature, initiate cleaning and more. There's even an ice scoop that fits neatly in the door – always ready when you need it. The UC-15IO is available either in stainless steel or ready to be fitted with custom panels, and has a built-in pump to allow for greater installation flexibility. less
Product Features
CURRENTLY UNAVAILABLE

This item is currently unavailable

Exceptional customer support

Whether you're shopping for appliances or have questions about those you already own, the Sub-Zero, Wolf, and Cove Customer Care team has a reputation for service that's as exceptional as its products

Never be out of ice

Our ice machine produces up to 50 lbs. of ice per day, with large-capacity storage – great for entertaining.

Convenient delay feature

Set it for two, four or eight hours, and ice will be ready when you need it – like when the party starts.

Water-filtration system

Designed to reduce contaminants and chlorine taste and odors when filtering water for ice, this low-maintenance system uses a filter built to last 1 year or 750 gallons. Replacement is fast and easy.
Rigorously tested to ensure dependability

Each and every Sub-Zero appliance is rigorously stress-tested to perform for over 20 years of daily use and is backed by the strongest warranty in the industry.

Approved for outdoor use

It can be used outdoors in temperatures from 50⁰ F to 110⁰ F.

Produces even when it's hot

High-volume unit produces ice in air temperatures up to 100⁰F (110⁰F outside)

Need a filter change?

The clean and change filter indicator lights let you know when it's time for maintenance.

Built-in scoop

It fits neatly in the door, always there when you need it.
Specifications and Downloads
Roll over image to zoom. Click image for expanded view.
Interior images are intended for interior reference only.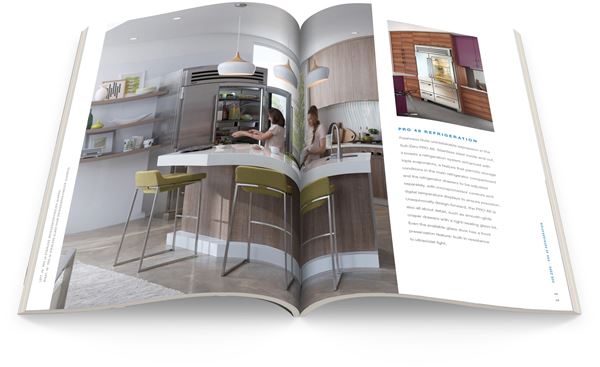 Request a brochure
Dozens of pages of inspiring photos, product features and more in print and online. Discover a world of beautiful, high-performance and top-quality products for your dream kitchen with this free guide from Sub-Zero, Wolf, and Cove.
Receive a printed brochure
Award-Winning Design Professionals
Partnering with a design professional to create your new kitchen will ensure that the end result matches your vision and suits your lifestyle. See below for a listing of award-winning design professionals in your area.
Fitchburg, WI (53711) Change Location
Deep River Partners - Milwaukee

de Giulio kitchen design, inc.

KDC 2017-18
KDC 2015-16
KDC 2013-14
KDC 2010-12

Snaidero - Chicago

KDC 2013-14
Located at specific dealers near you, the Living Kitchen features Sub-Zero, Wolf, and Cove appliances in real kitchen settings and more resources for selecting the right products for your dream kitchen. Look inside a Living Kitchen.