24" Coffee System - Black
EC24/B
COFFEE YOUR WAY, ANY TIME YOU LIKE
What makes a great cup of coffee? Beans, grind, crema, strength – all that and more. Like a great estate coffee roasted by a master and brewed by an expert, the Wolf Coffee System hits all the right notes. It incorporates your own personal preferences to craft the exact cup of coffee you crave. Espresso, cappuccino, latte, macchiato – you'll enjoy your favorite coffee drinks in minutes, anytime you please, in the peace and quiet of your own home.
Brew two types of roasts at any given time – use the built-in bean reservoir for whole beans or add pre-ground coffee a scoop at a time. You control the strength, from extra-mild to extra strong, and the size of the grind, with the 13-setting stainless burr grinder. Is it difficult to master? Not at all. Just dial in your parameters, push a few buttons and you're ready to savor. Easy to clean, installs nearly anywhere – the Wolf coffee system is a joy to use and own. less

Hit all the right notes
Everyone has a different recipe for their perfect cup of coffee, but the bean, the grind, and the strength are fundamental to each. Whatever your taste, the Wolf coffee system will craft the coffee you crave.
Product Features
Adjustable built-in burr grinder

Thirteen grind settings in this stainless steel unit let you customize your whole bean coffee for the taste and body you prefer.

Brew it extra-mild to extra-strong

When you're brewing from whole bean coffee, five strength settings from extra-mild to extra-strong give you precisely the flavor you prefer, at any selected size.

Hot water on demand – tea anyone?

Tea, hot chocolate, oatmeal, you name it. The system can deliver up to 14 ounces of hot water with the push of a button. How hot? That's up to you. The temperature is adjustable.

Make it a double!

For two identical coffees, just press the Double Coffee button and position a cup under each spout. Or select Double Coffee and place your mug under the spouts to make a double size coffee for one.

Removable milk carafe

The dishwasher-safe carafe plugs into the machine to make milk drinks, then goes right into the refrigerator to keep milk fresh. Milk is steamed and frothed without passing through the system's internal components, making cleaning infinitely easier.

Rigorously tested to ensure dependability

Each and every Wolf appliance is rigorously stress-tested to perform for over twenty years of daily use and is backed by the strongest warranty in the industry.
Auto-descale reminders

Minerals from water naturally build up on heating surfaces and reduce efficiency. The Wolf coffee system is engineered to monitor this and let you know when to descale the system. Result? Your drinks always come out at the temperature you expect.

Coffee, made to size

Select the size you want from the pushbutton presets – everything from a one-ounce espresso shot to a 12-ounce coffee. Unique sizes (up to 7 oz.) can be programmed and saved using the customizable "My Coffee" setting.

Make all your favorite coffee drinks

What's your pleasure? Make long or short coffee, espresso, cappuccino, latte or a macchiato in seconds. Even steam or froth milk for, say, a chai latte or the kids' hot chocolate.

No plumbing needed

Unlike units that must be connected to a water line, the Wolf coffee system can be installed anywhere without additional plumbing – kitchen, study, rec room. Easily accessible water reservoir holds 60.9 fluid oz. (1.8 liters), enough for several drinks between refills.

Uses whole-bean and pre-ground coffee

The machine holds about half a pound of whole-bean coffee, and grinds it automatically to make your drink. It can brew single cups from pre-ground coffee too, so you can have your breakfast blend even when the bean reservoir is full of espresso roast.

Exceptional customer support

Whether you're shopping for appliances or have questions about those you already own, the Sub-Zero, Wolf, and Cove Customer Care team has a reputation for service that's as exceptional as its products.
Specifications and Downloads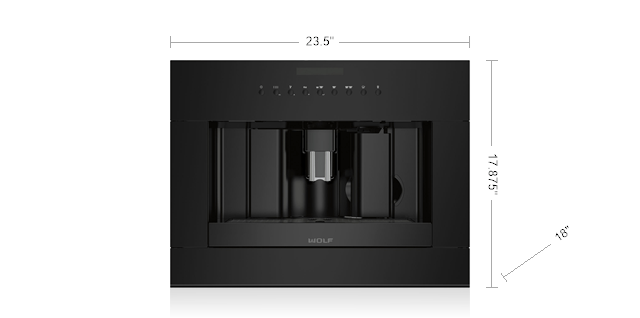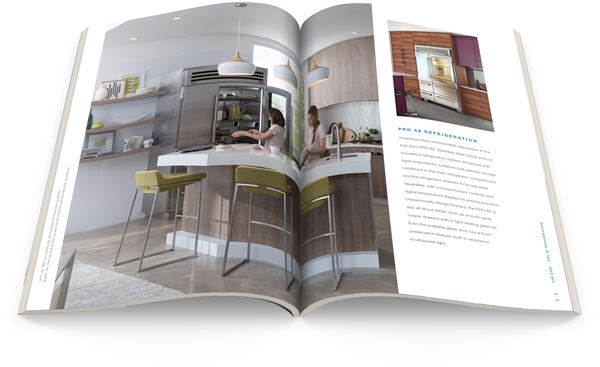 Request a brochure
Dozens of pages of inspiring photos, product features and more in print and online. Discover a world of beautiful, high-performance and top-quality products for your dream kitchen with this free guide from Sub-Zero, Wolf, and Cove.
Receive a printed brochure
Award-Winning Design Professionals
Partnering with a design professional to create your new kitchen will ensure that the end result matches your vision and suits your lifestyle. See below for a listing of award-winning design professionals in your area.
Fitchburg, WI (53711) Change Location
Deep River Partners - Milwaukee

de Giulio kitchen design, inc.

KDC 2017-18
KDC 2015-16
KDC 2013-14
KDC 2010-12
Located at specific dealers near you, the Living Kitchen features Sub-Zero, Wolf, and Cove appliances in real kitchen settings and more resources for selecting the right products for your dream kitchen. Look inside a Living Kitchen.