30" M Series Contemporary Black Glass Convection Steam Oven with Retractable Handle
CSO30CM/B
THE WORLD'S MOST VERSATILE OVEN
Please suspend disbelief as you consider the capabilities of the Wolf 30" M Series Contemporary Black Glass Convection Steam Oven. With full steam, achieve juicy, golden roast turkey. Vibrant steamed asparagus. Bubbly, crisp-crusted casseroles. Complex "multi-pot" dishes created automatically in one oven dish. Steam, roast, bake, slow cook – the possibilities are almost unlimited. And it's a healthier way to cook: steam vegetables and retain up to 22% more vitamins. (Not to mention, get your children to eat them, they're so delicious.)
It's almost supernatural, the way it works. Choose the cooking mode combining steam and convection that's ideal for your dish. The oven's unique digital technology senses the amount and size of the food, and automatically adjusts all the details of cooking. A stale baguette is rejuvenated to just-baked freshness. French fries are "fried" without a drop of added fat. Crisp, hot phyllo pastry is baked around firmly frozen ice cream. Miraculous? It's all in a day's work for the Convection Steam Oven. less
Wolf Convection Steam Oven with The Conversational Chef
Convection steam skeptic? Now you can believe.
CREATE RESTAURANT-QUALITY RESULTS AT HOME
Wolf's Chef Coleman speaks with James Beard nominated Chef Jonny Hunter about sous vide cooking, the role it plays in restaurants today, and how it's revolutionizing the home kitchen.
CONVECTION STEAM OVEN QUICK START
Learn the basics of the Wolf convection steam oven controls, tips and tricks for the best results, and recipe ideas. From sous vide to roasted chicken, get the most out of your product.
Product Features
Rigorously tested to ensure dependability

Each and every Wolf appliance is rigorously stress-tested to perform for over twenty years of daily use and is backed by the strongest warranty in the industry.

Gourmet mode

Simply tell it the type of food you are putting in the oven – anything from a soufflé to a crown roast to a few sweet potatoes. The climate sensor detects the volume, shape and consistency and adjusts time, temperature and humidity for guesswork-free delicious results, every time.

Delayed start

What time would you like your dish to be ready? Simply program it in. The oven turns on at the right moment and adjusts the cooking process so the food is ready to serve precisely when you want it.

Is it done yet?

No need to open the oven to check, and double check, the level of doneness. The temperature probe alerts you when your dish has reached the desired temperature. The ultimate convenience for busy gourmets.

Results only full steam can achieve

Unlike steam assist, the Wolf convection steam oven precisely controls heat, steam, and airflow for the best results with any dish, from roast chicken to chocolate brownies to garlic-roasted asparagus. Even bake bread like a pro and bring leftovers back to life. Ten modes are Steam, Auto Steam Bake, Convection, Convection Humid, Convection Steam, Gourmet, Slow Roast, Reheat, Recipes and Keep Warm.
Exceptional customer support

Whether you're shopping for appliances or have questions about those you already own, the Sub-Zero, Wolf, and Cove Customer Care team has a reputation for service that's as exceptional as its products.

Larger interior capacity

Larger than similar products, Wolf's convection steam oven can roast a 15-pound turkey and other large items, even multiple dishes at once.

Large, easy-access water tank

The oven's large water tank provides 90 minutes of continuous steam cooking. Thoughtfully designed, it can be refilled when needed without opening the oven door and interrupting the cooking process.

Steam more than vegetables

Take your cooking to the next level with steam. The 1° increments of temperature control are essential for precision-based cooking techniques like sous vide. Steam is also the key ingredient for bakery-quality breads and crispy chicken.

Contemporary Design and Install Flexibility

The retracted handle creates a sleek handleless look. The unit can be installed flush with cabinetry and paired with other Wolf products to seamlessly integrate it into your kitchen design. And since it isn't plumbed, it can be installed anywhere without requiring special water lines.
Specifications and Downloads
Roll over image to zoom. Click image for expanded view.
Interior images are intended for interior reference only.

Master the Convection Steam Oven
This book is your guide to unlocking the potential of your Convection Steam Oven. Ultimately, you'll learn the ins and outs of your oven and its intelligent features, the basics of steam and convection cooking, and a few fundamental techniques. Plus, try dozens of illustrative chef-tested recipes that will elevate your cooking, broaden your repertoire, and help you get the most out of your oven.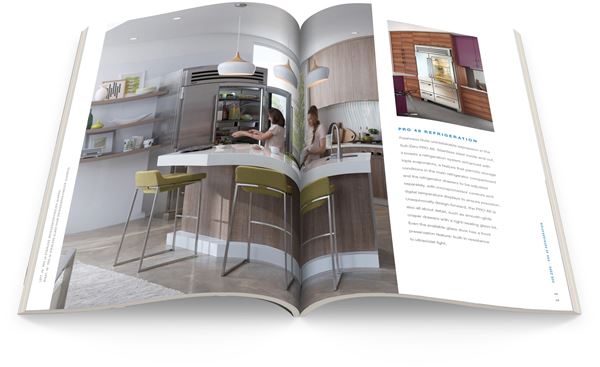 Request a brochure
Dozens of pages of inspiring photos, product features and more in print and online. Discover a world of beautiful, high-performance and top-quality products for your dream kitchen with this free guide from Sub-Zero, Wolf, and Cove.
Receive a printed brochure
Award-Winning Design Professionals
Partnering with a design professional to create your new kitchen will ensure that the end result matches your vision and suits your lifestyle. See below for a listing of award-winning design professionals in your area.
Fitchburg, WI (53711) Change Location
Deep River Partners - Milwaukee

de Giulio kitchen design, inc.

KDC 2017-18
KDC 2015-16
KDC 2013-14
KDC 2010-12

Snaidero - Chicago

KDC 2013-14
Located at specific dealers near you, the Living Kitchen features Sub-Zero, Wolf, and Cove appliances in real kitchen settings and more resources for selecting the right products for your dream kitchen. Look inside a Living Kitchen.