24" Dishwasher - Panel Ready
DW2450
CLEAN WITH ABSOLUTE CONFIDENCE
Cove dishwashers clean to a higher standard. They are built to ensure that every dish and utensil—including plastic containers, heavy saucepans, wire whisks, and even delicate china plates—emerge from the dishwasher spotlessly clean and dry. Cove appliances are engineered to adapt to the dishes you clean most – with cycles that ensure spotless results and near-silent operation.
Thoughtfully designed with adjustable interiors, customizable exterior finishes, and the best warranty and service available, Cove is simply a more enlightened way to wash. To pair your Cove with Sub-Zero and Wolf products, stainless steel accessory panels are available for 60cm and 24" openings with 4" or 6" toekicks and pro or tubular handles. less
Product Features
Rigorously tested to ensure dependability

Built with premium-grade materials, Cove dishwashers are designed to last a minimum of 20 years. To ensure reliability, engineers stress test designs simulating years of use. Every major function of every completed product is tested before shipping. It's no wonder we can offer the best warranty in the industry – a full 5-years.

Adjusts for dishes of all kinds

Wherever you see green inside a Cove, there's an adjustment point. The height-adjustable middle rack and fold-down tines can fit any size or combination of dishes, so even wine glasses and delicate china are safely cradled and cleaned.

Design Flexibility

Cove is the dishwasher to complete your Sub-Zero and Wolf kitchen. It accepts cabinet panels for a custom look or stainless panels and handles to match Sub-Zero and Wolf products.

Near-Silent Operation

Cove was carefully designed to never interrupt a kitchen conversation. For the most discerning ears, the Extra Quiet cycle provides an even quieter experience.
Exceptional customer support

Whether you're shopping for appliances or have questions about those you already own, the Sub-Zero, Wolf, and Cove Customer Care team has a reputation for service that's as exceptional as its products. They're based in Madison, Wisconsin, just footsteps from the factory, and are standing by to provide expert, friendly, problem-solving support.

Bright LED Lit Interior

LED interior lighting is highly energy-efficient, and brightens Cove's interior to make loading, unloading, and finding every dish and utensil easy.

Hidden Touch Controls and Status Light

Cove's touch controls are hidden under the countertop to maintain the clean lines of your kitchen design. They're intuitive and easy-to-use, and the status floor light keeps you updated on your wash progress.

GETS DISHES SPOTLESSLY CLEAN AND DRY

Custom wash and dry cycle options allow you to clean even the most crusty, baked-on dishes, with no prerinsing needed. Three spray arms and 43 jets provide powerful cleansing action, while a 4-stage filtration system ensures that only clean water is washing your dishes.
Specifications and Downloads
Roll over image to zoom. Click image for expanded view.
Interior images are intended for interior reference only.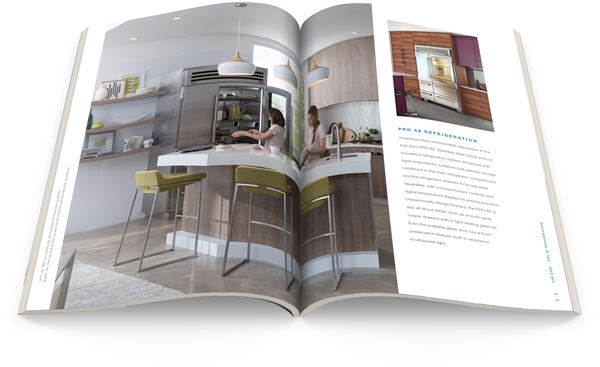 Request a brochure
Dozens of pages of inspiring photos, product features and more in print and online. Discover a world of beautiful, high-performance and top-quality products for your dream kitchen with this free guide from Sub-Zero, Wolf, and Cove.
Receive a printed brochure
Award-Winning Design Professionals
Partnering with a design professional to create your new kitchen will ensure that the end result matches your vision and suits your lifestyle. See below for a listing of award-winning design professionals in your area.
Fitchburg, WI (53711) Change Location
Deep River Partners - Milwaukee

de Giulio kitchen design, inc.

KDC 2017-18
KDC 2015-16
KDC 2013-14
KDC 2010-12
Located at specific dealers near you, the Living Kitchen features Sub-Zero, Wolf, and Cove appliances in real kitchen settings and more resources for selecting the right products for your dream kitchen. Look inside a Living Kitchen.