15" Transitional Fryer Module
FM15TF/S
DEEP-FRIED DELICIOUSNESS
What is the first dish you'll prepare in the Wolf 15" fryer? Shrimp tempura, perhaps, or beer-battered cod? Falafel is always a treat. Beignets or churros might be a nice change from your usual desserts. You get the idea: this is a cooking instrument that can quickly turn you into a hero with family and friends, as you whip up one delectable dish after another. The accurate temperature control of the fryer module lets you seal in the great flavor of the food without absorbing any unnecessary grease.
An extremely deep fryer handles large portions of small food items – Vidalia onion rings, anyone? Or even a whole chicken. There are three easy-to-grip fryer baskets, one large and two small. And illuminated electronic touch controls with graduated control lighting. Best of all, it's just one of eight Wolf modules that bring specialty cooking into your kitchen. less
Product Features
Rigorously tested to ensure dependability

Each and every Wolf appliance is rigorously stress-tested to perform for over twenty years of daily use and is backed by the strongest warranty in the industry.

Create a Custom Cooking Array

Integrated design and slim 15" width lets you use it à la carte with other modules for a custom cooking array. Wolf modules have a streamlined control layout and frame – to seamlessly pair with one another.



Melt feature

Used to slowly melt solid shortening or lard to a liquid state, before heating to the desired deep-frying temperature.

Convenient controls

Illuminated white LED sliding touch controls are crisp and easy to read. Control panel lock prevents unwanted use of cooktop.


Manual locking drain

Makes it easy to hold or drain oil – just push in the safety latch as you turn the drain valve handle downward.
Exceptional customer support

Whether you're shopping for appliances or have questions about those you already own, the Sub-Zero, Wolf, and Cove Customer Care team has a reputation for service that's as exceptional as its products.

Crisper, lighter fried foods

The precise control of the 2700-watt heating elements allows you to seal in the flavor of the food without absorbing any unnecessary grease.

Three wire baskets

One large and two small baskets are all dishwasher-safe, and come with easy to grip, easy to hang hanger handles.

Low-profile stainless steel lid

Discreetly conceals the fryer to maintain the clean look of the kitchen design.
Specifications and Downloads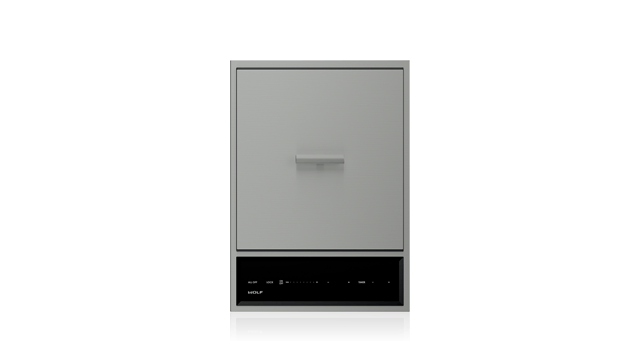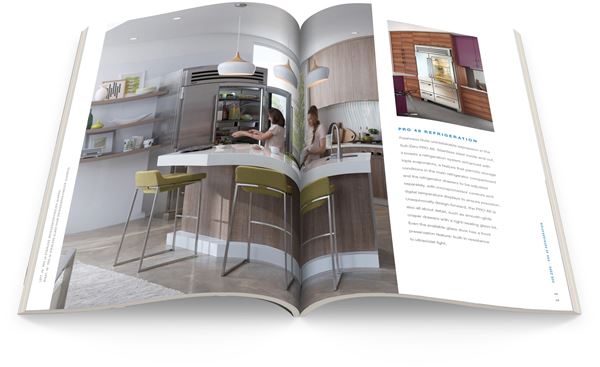 Request a brochure
Dozens of pages of inspiring photos, product features and more in print and online. Discover a world of beautiful, high-performance and top-quality products for your dream kitchen with this free guide from Sub-Zero, Wolf, and Cove.
Receive a printed brochure
Award-Winning Design Professionals
Partnering with a design professional to create your new kitchen will ensure that the end result matches your vision and suits your lifestyle. See below for a listing of award-winning design professionals in your area.
Fitchburg, WI (53711) Change Location
Deep River Partners - Milwaukee

de Giulio kitchen design, inc.

KDC 2017-18
KDC 2015-16
KDC 2013-14
KDC 2010-12

Snaidero - Chicago

KDC 2013-14
Located at specific dealers near you, the Living Kitchen features Sub-Zero, Wolf, and Cove appliances in real kitchen settings and more resources for selecting the right products for your dream kitchen. Look inside a Living Kitchen.